Hollywoodland
In a pivotal scene of the pilot episode of Mad Men, during a pitch meeting for executives of Lucky Strike cigarettes, Don Draper says "advertising is based on one thing: happiness. And do you know what happiness is? Happiness is the smell of a new car. It's freedom from fear. It's a billboard on the side of a road that screams with reassurance that whatever you're doing is OK. You are OK." It is a cynical, yet powerful and realistic reminder of the power of advertising--that an eye-catching ad can convince you to ingest poisonous tar that kills you slowly, or even purchase a home in a new neighborhood development, set precariously on the side of a hill.
Initially reading "HOLLYWOODLAND" and emblazoned brightly above the City of Angels, the Hollywood Sign is one of LA's most recognizable landmarks, and possibly the most famous advertisement in the world. Today, the sign is as synonymous with the television and film industry as Hollywood itself. The history of the sign is already well-documented, including a suicide from the letter "H", removal of the "LAND" in 1949, years of decay and disrepair, preservation efforts (including a Hugh Hefner-led fundraiser at the Playboy Mansion figuratively "selling off" letters to the likes of Alice Cooper and Gene Autry), and various pranksters adding their own alterations to the letters (most recently changing it to read "Hollyweed" in celebration of California's legalization of marijuana in 2017). But these towering letters among the Hollywood Hills, which only recently celebrated their 95th birthday, originated simply as an advertisement for a new housing community known as "Hollywoodland." Indeed, the history of Hollywoodland is as dynamic and complicated as its now-famous sign.
Just after the town of Hollywood was incorporated into the city of Los Angeles in 1910, much of the Hollywood Hills were still rural and sparsely populated, despite the booming real estate market and increasing population elsewhere in the city. During this time, LA real estate moguls, Eli P. Clark and Gen. Moses H. Sherman, who were instrumental in the development of the electric railcar system in LA, owned a large tract of land at the base of the Hollywood Hills which they dubbed the "Sherman & Clark Ranch." With the growing population of LA, Sherman and Clark seized the opportunity to subdivide their then-undeveloped land into a new residential district. These two men, along with LA Times publisher, Harry Chandler, and developers, Tracy E. Shoults and S. H. Woodruff, formed a syndicate that would establish the Hollywoodland development in 1923.
On April 1, 1923, a story ran in the LA Times, proudly proclaiming "OPENING GREAT AREA TO HOMES," and describing in further detail:
It is the intention of the subdividers to make the tract, which is being marketed under the name of Hollywoodland, into one of the most attractive residential sections of the city. The improvements will include well-paved winding streets through the hills, all of which will be lighted by boulevard lights. Although some of the lots will be at high elevation, the engineering problem has been so handled that the boulevards throughout the tract will be carried on easy grades ... For many years the ranch has lain undeveloped, but the rapid growth of Hollywood and the growing popularity of the foothill area for residential purposes has reached a point where the subdivision of the tract is now deemed advisable by its owners.
The first step of this enormous undertaking was to actually develop the rolling hills into a place where houses could be built. In order to build miles of road, as well as the new tracts where houses would be constructed, developers carved the landscape with a combination of "mule drawn graders" and steam shovels. By June 1923, only ten weeks after the opening, $250,000 had already been spent on improvements (approximately $3.7m in 2019 dollars), 300,000 cubic yards of land had been moved, and seven miles of road had been built. The developers even used "[e]ight thousand pounds of dynamite" to demolish a granite hillside. In classic Hollywood fashion, newsreel and press cameras were on the scene to watch "at a safe distance as the hill literally melted under the force of the tremendous explosion." In fact, some have praised the fact that the types of construction equipment available today were not in existence at the time of the Hollywoodland development, otherwise the hills may have been completely flattened altogether. Once the landscape was prepared, construction began on homes which were restricted to styles with a European influence--French, Tudor, Mediterranean, and Spanish.
The syndicate, led by Woodruff, knew that all of their grand plans and construction would be for nothing if no one actually bought into their idea. With that in mind, the very first building constructed here was the Hollywoodland sales office, still standing today at the entrance of the neighborhood at 2700 N. Beachwood Drive. It was designed in a "storybook" style by John DeLario, principal architect of Hollywoodland in the 1920s. DeLario was responsible for designing the stone gates and many of the new homes in the community. The landmark sales office was also the site when tragedy struck in July 1923. Lead developer, Tracy Shoults, died suddenly of heart disease in his Hollywoodland office, never ultimately seeing the fruits of his labor.
After Shoults' death, the syndicate continued on with Woodruff at the helm. With the sales office in place, Woodruff hired an entire publicity team led by L. J. Burrud as the Hollywoodland advertising manager. Burrud's first assignment was to create a massive marketing campaign to entice potential buyers, even before any homes were built. In a meeting of the Hollywood Realty Board at the Hollywood Athletic Club in February 1925, Burrud told members that, during the past year alone:
"904 stories on Hollywoodland have appeared in various kinds of publications. Use of the radio by the Hollywoodland Orchestra, he reported, brought 20,000 letters from all parts of the country. He described the follow-up system in which he said 50,000 folders were sent out. Newspaper display advertising, he said, is the foundation of all publicity used to bring business."
Hollywoodland's extensive use of print advertising is evident throughout the early years of development. No doubt aided by having LA Times magnate, Harry Chandler, as part of the syndicate, ads in the LA Times constantly touted the community as "the supreme achievement in community building!", "the perfect choice when seeking a home place", "superb environment without excessive cost," and combining "the luxury of metropolitan living with the glorious freedom of the hills."
But of course, the crown jewel of all the advertising efforts was the "HOLLYWOODLAND" sign placed on the hillside high above the neighborhood in 1923. Intended to only be temporary, the sign was built at a cost of a little over $23,000 and was made of sheet metal, pipe, wire, and telephone poles. First lit up on December 8, 1923, the letters were lined with 3,700 light bulbs and flashed in segments--first "HOLLY," "WOOD," and "LAND" flashed independently, one at a time, then the entire sign would flash, then a small white dot lit up just below the sign (more on that later).
Within a few months, 120 lots had already been sold at a total price of about $850,000. A little over a year later in November 1924, Woodruff stated that "[a]pproximately $3,000,000 in sales have been consummated since the inauguration of Hollywoodland … and homes to the value of another $2,000,000 have been constructed or planned." Though aided by the onslaught of publicity Burrud had generated, the success of Hollywoodland was also completely circumstantial. As Hollywoodland's sales manager George R. Hannan stated in 1926:
"As a result of the tremendous progress and the growth of Los Angeles, its residential districts have shifted more rapidly than in any other city in America. In eastern cities the fine residential areas change very slowly; in fact in most of the eastern cities, the fine home section has not changed to any great extent in many years. Los Angeles, however, is different. Only a few years ago Figueroa Street was the exclusive residential section, then West Adams, then Wilshire Boulevard. All of these sections, however, have been affected by business, commercial and traffic conditions so that the rapidly increasing population of Los Angeles now demands a residential area developed on a high plane which will be safe from the inroads of commercialism, business and industrial expansion."
It's hard to imagine Hannan's sentiment--some of which could easily be said about Los Angeles today--with so much land in and around LA still undeveloped by the early 1920s. Yet this is exactly what made Hollywoodland attractive to buyers: it was sold as a refuge. In one advertisement from January 1924, Hollywoodland is shown as an open expanse gleaming above the congested streets of downtown with the slogan "above the turmoil of the city." This combination of the natural beauty of the Hollywood hills, while still being close to the conveniences of the city made Hollywoodland an easy sell. In one LA Times article from November 1925, an LA attorney who recently purchased a home in Hollywoodland explained this feeling in greater detail:
"I realize that the place in which to make strong, healthy men and women of my 'kiddies' was not in an apartment, but in the great out-of-doors, yet my business was such that I could not leave the city for the advantages of a country estate. On investigation, I found that while Hollywoodland is but a few moments from downtown Los Angeles, and only a few blocks from Hollywood Boulevard; its beautiful setting in the hills gives it the clean, pure atmosphere and the safety for children of a country estate. I immediately procured a marvelous site overlooking Los Angeles and planned myself a home."
At its inception, Hollywoodland offered its residents several amenities including the Hollywoodland bus--an 8-passenger Model A Ford that ferried residents from their homes to the stone gate entrance--as well as two tennis courts, a putting green, and horse stables where stable hands once delivered horses directly to residents' doors. At the end of Beachwood Drive was a small commercial area, containing a gas station, market, and drug store. Many of these amenities are gone, and the horse stables now run horseback riding tours as the Sunset Ranch Hollywood.
However, Hollywoodland cannot simply be reduced to the pastoral and idyllic community that it touted itself to be. Not unlike the home styles that were regulated and restricted to that of only European style homes, its residents too were regulated and restricted. At the end of the day, the Hollywoodland sign was intended to shine as a beacon only for white Angelinos. Hollywoodland worked to restrict minorities from buying within the development and not-so-subtly advertised itself as a safe haven of sorts "above the turmoil of the city." Another ad sought out "the Old Timer of Los Angeles," stating:
You ….. Who have seen the fine residential districts of Los Angeles despoiled by metropolitan development--must realize now that Los Angeles is destined soon to be a city of millions.
Protect your family by procuring at today's prices a home place in the Hills of Hollywoodland--secured by fixed and natural restrictions against the inroads of metropolitanism and yet within twenty-five minutes of Seventh & Broadway. Today is Your best opportunity. Are you going to sit idly by and let the March of Progress pass unheeded?
Another Hollywood ad read, "[w]here will you live when the second million has come? Will your family enjoy a delightful home in the clean, pure mountain air of Hollywoodland … or will you live in a 'dwelling' in the flat, uninteresting houses-in-a-row sections of the City, your family's freedom hampered by this maelstrom of existence?" The not-so-thinly veiled fear-mongering, as well as the racist and classist language in these Hollywoodland ads, cannot be ignored. Emboldened by early 20th century court decisions in California and the U.S. Supreme Court, communities across LA restricted home ownership to prevent inclusion of non-whites, such as a 1920s Eagle Rock ad overtly proclaiming that "[r]esidents of Eagle Rock are all of the White or Caucasian Race." Even legendary singer Nat King Cole could not prevent pervasive racism after purchasing his family home in LA's upscale Hancock Park in the 1940s. Hollywoodland was no different, and specifically restricted deeds only to Caucasians for over 50 years.
And remember that white spot that shone below the Hollywood sign? In 1920-21, the U.S. Chamber of Commerce created maps designating business conditions around the country--areas shaded black were "bad," grey was "fair," and white was "good." On this map, LA was literally a "white spot" among areas shaded in black and grey, leading Harry Chandler to dub Los Angeles as "The White Spot of America." The term caught on and by 1924 the phrase "Keep the White Spot White" was used throughout the city. Though some found this characterization to simply refer to keeping LA economically prosperous, it's difficult to separate the racial implications when put in this historical context. Hardly alone in this pursuit, Hollywoodland was one of countless housing developments in LA and across the United States that, along with the banks, shamefully restricted minorities from entering its communities and deterred non-whites from home ownership and accumulating wealth. And for much of the 20th century Hollywoodland remained a white spot--cartographically and racially--looking down its nose on the dark spots of the city below.
Today the former Hollywoodland development is a more diverse community of residents and visitors, bustling with tourists, hikers, and neighbors alike. Despite its complicated racial history, there's no doubt that even to this day, Hollywoodland has always maintained the feeling of a small town enclave tucked away from the sprawling city. Driving or walking through the stone gates that still mark the entrance to Hollywoodland, transports you back in time to a small storybook town that seems out of place within the confines of Los Angeles. The Village Plaza, situated at the end of Beachwood Drive, may no longer have the gas station or drug store, but Beachwood Market, the neighborhood grocery store since 1933, is still serving the community and even expanded to the building next door with its distinctive John Lautner-designed glass front. You can stop in for a cup of coffee at the Beachwood Cafe, say hello to a neighbor, and check the bulletin board outside for a missing cat or neighborhood event.
And most importantly, the old Hollywoodland Sales Office that started it all, now the office of Hollywoodland Realty Co., still welcomes new residents from John DeLario's historic building at the community's entrance. Hollywoodland today is just one of hundreds of neighborhoods scattered across Los Angeles, each with their own character and people. And yet no matter how the area continues to change, the community seems to always remain a unique little village all to itself.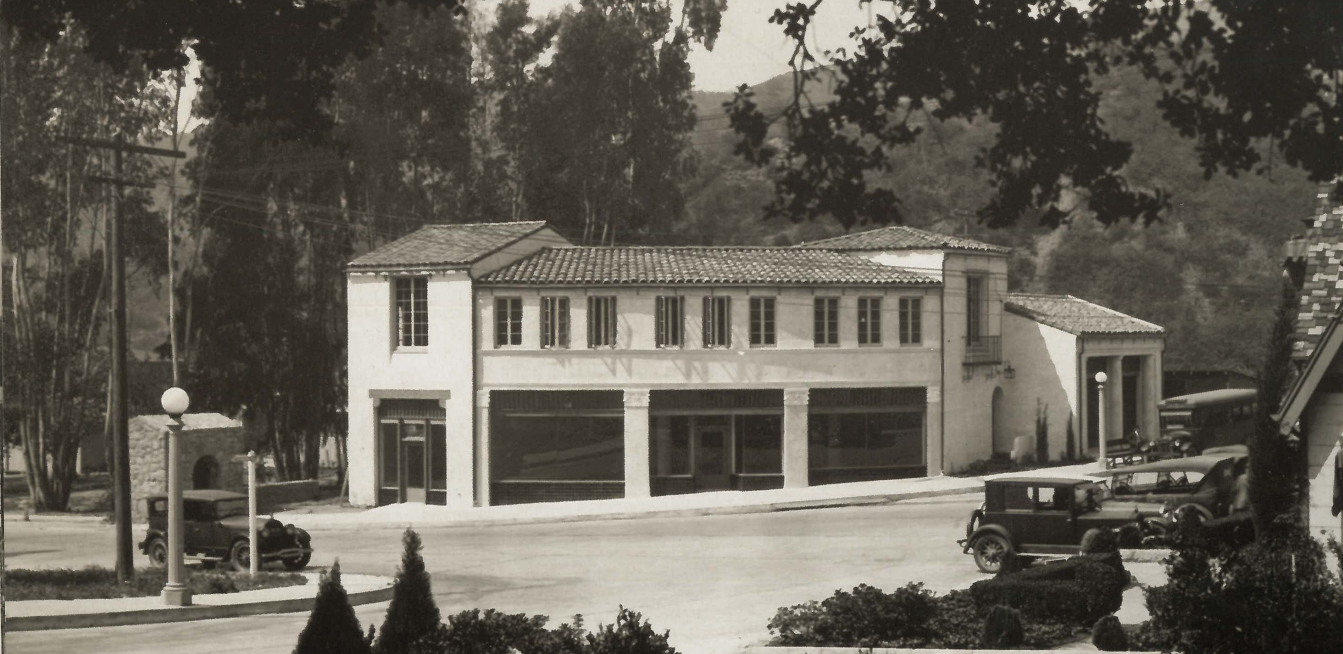 Sources:
"ACTIVE BUILDING SEEN." Los Angeles Times (1923-1995), Nov. 09, 1924, p. 1. ProQuest. Web. 8 Oct. 2018.
"Display Ad 5 -- no Title." Los Angeles Times (1923-1995), Aug. 24, 1925, p. 4. ProQuest. Web. 26 Nov. 2018.
"Display Ad 93 -- no Title." Los Angeles Times (1923-1995), Jan. 13, 1924, p. D2. ProQuest. Web. 26 Nov. 2018.
"Display Ad 100 -- no Title." Los Angeles Times (1923-1995), Feb. 10, 1924, p. D2. ProQuest. Web. 26 Nov. 2018.
"Display Ad 103 -- no Title." Los Angeles Times (1923-1995), Jan. 6, 1924, p. D2. ProQuest. Web. 26 Nov. 2018.
"Display Ad 263 -- no Title." Los Angeles Times (1923-1995), Nov. 4, 1923, p. V4. ProQuest. Web. 26 Nov. 2018.
"Display Ad 321 -- no Title." Los Angeles Times (1923-1995), Jun. 10, 1923, p. 1. ProQuest. Web. 8 Oct. 2018.
"GIANT BLAST SHOT OFF IN SUBDIVISION." Los Angeles Times (1923-1995), Jun. 19, 1923, p. 1. ProQuest. Web. 16 Dec. 2018.
"Hollywoodland Residences." Los Angeles Times (1923-1995), Jun. 06, 1926, p. 1. ProQuest. Web. 8 Oct. 2018.
"Hollywoodland Electric Sign Reached by Car." Los Angeles Times (1923-1995), Dec. 30, 1923, p. 1. ProQuest. Web. 24 Sep. 2018.
MONA GABLE SPECIAL TO,THE TIMES. "Rustic Enclave Trades Hustle for Serenity." Los Angeles Times (1923-1995), Apr. 04, 1993, p. 2. ProQuest. Web. 16 Dec. 2018.
"OPENING GREAT AREA TO HOMES." Los Angeles Times (1923-1995), Apr. 01, 1923, p. 1. ProQuest. Web. 24 Sep. 2018.
"REALTY MEN IN PRAISE TO ADVERTISING." Los Angeles Times (1923-1995), Feb. 27, 1925, p. 1. ProQuest. Web. 8 Oct. 2018.
"Residence in Hollywoodland for Attorney." Los Angeles Times (1923-1995), Nov. 29, 1925, p. 1. ProQuest. Web. 16 Dec. 2018.
Williams, Gregory Paul. Hollywoodland: Established 1923. Ed. Dino Williams and Alexa Williams. Los Angeles: Papavasilopoulos, 1992. Print.