The Dunbar Hotel and Club Alabam
These words by Paul Laurence Dunbar, the namesake for the Dunbar Hotel that once sat as the crown jewel of the pulsating and thriving Jazz Corridor of Central Avenue, in many ways describe the aspirations, upward mobility, and eventual disinvestment in Central Avenue and the dissolution of its patrons and residents. Once a flourishing center of African American life in Los Angeles, this area of South Central is a far cry from its heyday in the 1920s-1940s. But as you head south on Central Avenue, past the vacant lot where beloved Jack's Basket Room once sat, past mini-marts and barbershops, past friendly faces on busy sidewalks, there it is: the former home of the Dunbar Hotel and Club Alabam. The structure has been beautifully restored to serve as a low-income apartment building, and Delicious at the Dunbar, a restaurant serving up a mix of soul food and Mexican dishes, opened on the ground floor in November 2018.
Often on our adventures to find "Lost Angeles," we discover ourselves amongst architectural ghosts and ruins. We don't always have the privilege of interacting with a location's present and future in addition to it's past, or the community that keeps its legacy alive. Over fried chicken, mac and cheese, corn bread, and sweet tea, we talked amongst ourselves about the history of the Dunbar Hotel and Club Alabam, and took in the sights and sounds of a community in transition. Visible outside the restaurant window is a mural depicting the history and integral figures of the Jazz Corridor of Central Avenue, including powerful slogans like "Don't Move Improve" and "Don't Buy Where You Can't Work." These words and figures loom large over an area of South Central that at once seems forgotten and hopeful.
The Dunbar Hotel's history is not just that of a building, but of community, ambition, and flourishing culture. It acted as a beacon of hope and acceptance in the face of a city that at times offered the residents of Central Avenue anything but. The Dunbar and Alabam were cultural and racial safe havens where patrons found both connection and entertainment. In a late 1990s interview featured in Central Avenue Sounds: Jazz in Los Angeles, musician Jack Kelson reminisced about the towering presence of the Dunbar on his beloved Central Avenue:
One picture has come to my mind countless times. It's that block in which resides the Club Alabam and the Dunbar Hotel… In the morning, the sidewalk in front of the Dunbar Hotel was bathed in bright sunlight. About noon, the shadow on the hotel started to shade the sidewalk, making it a perfect stage on which to perform, to see and to be seen, to teach and to be taught: for the rest of the day, it was cool and comfortable… That's my favorite spot on Central Avenue, that spot in front of the Dunbar Hotel, because that to me was the hippest, most intimate, key spot of all the activity. That's where the night people hung out: the sportsmen, the businessmen, the dancers, everybody in show business, people who were somebody who stayed at the hotel.
We finished up our lunch at Delicious, vowing to be back soon for one of their Saturday jazz nights, and walked outside to snap some photos of the building's exterior. We were met with a beautiful iron gate closing off the courtyard entrance to the Dunbar from the street. Out on Central Avenue and nearly done with photos, we were ready to give into the fact that there was no way to actually peek inside the building. Suddenly, a door flung open and we were greeted with flattering comments from "Mama Glo," one of the Dunbar's residents, about how we were dressed and fit in with the look of the Central Avenue of the past. She spoke with us briefly about the good old days of Central Avenue and the sounds and sights and rhythms that kept the Jazz Corridor alive. Mama Glo quickly realized that our flair for vintage clothing was only exceeded by our love of history, and after gushing about the Dunbar's legacy for just a few moments, she invited us in to see the lobby. Not wanting to be intrusive we asked if she was sure, but she insisted we take a peek. "I own this place!" she said jokingly, and then we were in.
On June 23, 1928, the Dunbar opened its doors as the Hotel Somerville to it's proud owners, Dr. John Alexander Somerville and his wife, Dr. Vada Watson Somerville. John was the first black dental student to graduate from USC in 1907, and Vada followed as the first black female graduate in 1918. John was also the first Vice President of the Los Angeles chapter of the NAACP and together with his wife, made improving and giving back to the community his mission. Soon, John dreamt up the idea of opening up a hotel catering to black patrons. In 1949 he recalled:
I conceived the idea of building a modern, up-to-date hotel, in the Central Avenue district. Up to this time there were no first class hotels in Los Angeles catering to colored patronage. Visitors to the city would often suffer the embarrassment of being refused accommodation, even at second rate places… I was granted a loan of $100,000… to purchase a building site at the corner of 41st and Central Avenue.
The Hotel Somerville was also built in part to host visitors for the NAACP's annual national convention in 1928, the first time it was held on the west coast. At the time, the center of LA's African American community was closer to 12th and Central Avenue, and Dr. John Somerville recalled that "[m]any people thought that we were going too far away" by building the hotel on the corner of 41st Place and Central. However, the hotel quickly became the new center of the community, and new buildings and businesses soon followed. In many ways, Dr. Somerville and his hotel inspired a community to stick together, to allow itself to want more, and to expect better. Somerville later recalled that with the opening of his hotel, he offered his black brethren "something clean and fresh; something that made the guests feel happy that they did not have to wait for white people to wear off the newness, before they could clean up the place and move in." When it opened its doors, Somerville deemed it "the finest hotel in America catering to colored people." W.E.B. DuBois, founding member of the NAACP and it's monthly publication, The Crisis, wrote about his stay at the Hotel Somerville in the magazine in September 1928:
It was a hotel—a jewel done with loving hands… with high, uplifted ceilings, with dainty colors and long, soft draperies. It was all full of sunshine and low voices and the sound of human laughter and running water. The Hotel Somerville was an extraordinary surprise to a people fed on ugliness—ugly schools, ugly churches, ugly streets, ugly insults… we entered a beautiful Inn with a soul—with Humor and Joy and Flowers and Music… it was so unexpected, so startling so beautiful.
Dr. Somerville and his hotel were also models of property ownership and upward mobility in the black community. Central Avenue musician Jack Kelson recalled this "pride of ownership of property... seemed to be reflected in prewar Central… pride in physical property, whether it's automobiles, dress, or the appearance of buildings. Glamorous... That was really the street where glamour and color was." And the Somerville/Dunbar sat at the center of it all. Years after its opening, Dr. John Somerville looked back on the magnificence of the hotel he had created, which included:
100 sleeping rooms on the second, third and fourth floors. The rooms were nicely furnished. On the ground floor were stores, a barber shop, a beauty parlor and a flower shop. The lobby was spacious, with murals and exquisite furnishings. A gorgeous patio was paved with flagstones, gathered from the desert. A fountain with incandescent lights, potted palms, and patio furniture faced the 41st street entrance. The dining room had a seating capacity of one hundred and a balcony for the orchestra.
Next to the hotel sat the Apex (later renamed Club Alabam), a nightclub led by musician Curtis Mosby that fed the city's growing appetite for jazz music. The club opened in 1928 at the height of Prohibition, selling food and "setups," while patrons clandestinely poured in their bootleg booze and danced the night away to the city's hottest jazz acts. With an influx of newly arrived black Angelinos from the south, jazz musical traditions followed and quickly became popularized throughout the city's nightclubs. Up and down Central Avenue, jazz soon found its way into dance halls and night clubs, barbecues and charity events, and became one of the defining features of the Avenue. Trumpeter Art Farmer found that "[o]n Central Avenue, Count Basie and Duke Ellington were more accessible. They were part of the neighborhood." Drummer William Douglass grew up in the area and as a kid, sat in awe of the heroes who passed though the doors of the Dunbar and the Alabam:
All of us as young kids, when we got out of school and were on our way home, we would walk right down Central Avenue just for a chance to pass by the Dunbar Hotel, because that's where all the big bands stayed. We used to get the word ahead of time that somebody's band was coming into town—it might be Basie or whoever—but we'd stand there and wait on the bus. We'd watch these guys climb off the bus and go upstairs to their hotel rooms, and we just hung around.
But the 1929 Stock Market Crash proved catastrophic for Dr. Somerville and his eponymous hotel. Somerville was forced to liquidate his assets and sell off the hotel to Lucius Lomax, a notorious businessman and son of former slaves who made his living from brothels and bootleg operations in Washington before making his way to Los Angeles. Lomax renamed the hotel after poet Paul Laurence Dunbar, and the newly minted Dunbar Hotel and Club Alabam clawed their way out of the Depression and kept on swinging. In August 1931, one California Eagle columnist reflected:
With two new cabarets giving the loud hee-haw to old man "Gen'l Depression" and opening up this week in the same block on Central avenue it looks as if the "Furious Forties" of Brown Broadway will take on its old name and aspect. For months with Nite Clubs dark and half the shops closed the famous block where formerly you could stand still and see all the gay fraternity, resembled the "Valley and the Shadows" of gloom. The dizzy nite lights are dancing daringly again, lightsome, lilting, laughter, is tinkling from the lips curved merrily in happy faces of white, brown, cream, or rich orange as the gay, many-colored gowns of women of all races flutter like so many tropic butterflies.
The 1930s were the Dunbar's golden years, and the California Eagle often wrote about life at the hotel during that time: "Jimmie Nelson, Hotel owner and man about town getting his hair cut and his nails polished in the Dunbar Hotel Barber shop for Christmas." And "[Maxine Sullivan] sits by the window in her luxurious Dunbar Hotel suite gazing in wonderment at the brilliance and beauty of California sunshine," were among the Dunbar-related articles of the era. Musical heroes like Lena Horne, Ray Charles, Count Basie, Louis Armstrong, and Billie Holiday shacked up at the Dunbar and played at the Alabam, and black patrons utilized the hotel's guest rooms, beauty parlor, barber shop, bar, banquet room and pharmacy.
The Dunbar and Alabam often hosted community events where the lines between culture/activism and entertainment were often blurred. Charity events, historically black sorority and fraternity dances, fashion shows, and fundraisers were cornerstones to life on 41st and Central. In 1936, Central Avenue fixtures and community activists rubbed elbows with screen stars like James Cagney at an Alabam fundraising event to benefit the Scottsboro Defense Fund. The proceeds were to benefit a legal defense fund for nine young black men falsely accused of raping two white women in Alabama in 1931. And the community continued to turn out for politically minded events. In 1940, the "Roosevelt Rally at Club Alabam" was to be the "largest and most entertaining Roosevelt Rally ever witnessed on the Eastside," featuring stars of radio, stage, and screen, and giveaways including groceries and an 18 pound turkey.
Unlike its hotel neighbor that catered to an exclusively black patronage, the Alabam, and subsequent nightclubs that popped up on Central Avenue's Jazz Corridor, largely attracted interracial crowds. When musician Lionel Hampton arrived in LA around 1924, he quickly became aware of the racial dynamics in the city: "Hollywood was a pretty town, but I didn't think much of the attitudes towards blacks there… it was like the South in some ways. You had to sit in the back of the bus, go into the white nightclubs by the back door… Also, black musicians didn't get paid as much as white musicians..." Performer Clora Bryant recalled that Central Avenue "was all black, except at night. At night that's when the movie stars would come over. I saw Rita Hayworth, Cesar Romero… Later on, Ava Gardner." Alto Saxophonist Marshall Royal remembers the Alabam as the place "where the people from Hollywood and Beverly HIlls came to go slumming. It was a black-owned place that would have 90 percent white audiences. The blacks didn't have the money to spend."
At its height, Club Alabam counted nearly 100 black employees on its payroll. In contrast, a number of white-owned businesses popped up on Central Avenue in the early 1930s that refused to hire black employees. In response, local activist Floyd Covington promoted the "Don't Buy Where You Can't Work" campaign to help advocate for better employment practices in the neighborhood. And despite the popularization of jazz music drawing white patrons into Central Avenue's hottest clubs, white establishments and institutions did not return the favor. Film studios and predominantly white nightclubs continued to underemploy black actors and musicians, relegating them to small on-screen roles and inviting them to perform in clubs they weren't welcome to enjoy as guests. Despite precarious racial dynamics both on and off Central Avenue, Club Alabam and Hotel Dunbar continued to advocate for the black community that they were so fundamentally a part of.
However, in May 1940, Mayor Fletcher Bowron prohibited alcohol from being served after 2AM in Los Angeles, leaving California Eagle columnist Harry Levette to declare "NO MORE SWING STREET.":
"Swing Street?" There ain't no sich [sic] animal… No it's just plain Central avenue now… Long ago I named it "Brown Broadway," "Whoopee Highway"... But that's all "Gone with the breeze" now and last Sunday night where all was once laughter, lights, gayety and color, with swarms of white visitors making the rounds, the old Avenue was the personification of a country graveyard.
If by 1940 Central Ave was starting to disappear, the advent of WWII continued the neighborhood on that path. After the US' entrance into the War in 1941, California was granted a great deal of military contracts and new war-time job opportunities. During this time President Roosevelt passed Executive Order 8802 which made it illegal for Federal agencies and defense contractors to discriminate on the basis of "race, creed, color, or national origin." The job market opened up significantly for black Angelinos, and soon restrictive covenants that limited black home ownership began to ease across the city. Jazz fell out of popularity and by the mid-1950s, Central Avenue witnessed a exodus of residents, visitors, and patrons. To oversimplify the following decades, the Watts Riots in 1965, and ongoing issues with crime, gang violence, and institutionalized racism, continued to transform the neighborhood. In 1999, not long after the LA Riots that further reshaped the psyche and physical landscape of South Central, musician Art Farmer reflected on the markedly changed neighborhood:
...when I go there now, I feel like I'm stepping into a graveyard. It's very emotional to see something that played such a large part in your life, and now there's nothing let there. Nothing would give you this impression that this place had ever been anything other than what it is right now… There's nothing there that would influence anybody now. Nothing at all. Not one brick. I mean, there's no sign of anything ever happening of any value or importance to anyone in the world.
Central Avenue's last remaining jazz club, Babe's and Ricky's, closed its doors on April 6, 1996, and then the Jazz Corridor was no more. Meanwhile, the Dunbar Hotel began to crumble. In a 1999 interview, musician Fletcher Smith mused about the future of the Dunbar: "I've seen it go from good to bad. They're trying to preserve the Dunbar Hotel—I mean, they need to tear that building down. See, I've been in there. I've seen it, and it's pitiful, man trying to save something like that… But it's one of those things, man. Good times don't roll all the time; it cuts out sometimes."
In 2013 after decades of neglect, City Councilwoman Jan Perry spearheaded an attempt to bring the once grand Dunbar Hotel back to life. In partnership with Thomas Safran & Associates and the Coalition for Responsible Community Development, a nearly $30M renovation saved the Dunbar. It reopened as Dunbar Village, an affordable housing community including the old site of the Dunbar Hotel as well as the Somerville North and South buildings directly across 41st Place. Dunbar Village offers 83 affordable housing units to the community, and this is no doubt a prime example of how conserving, rather than destroying old buildings, can at once preserve history and transform a community. The Dunbar Hotel has been faithfully and lovingly restored—its courtyard, murals, wrought-iron railings, and chandeliers adorn the lobby and entrance to the building. The lobby is complete with a grand piano and striking black and white photos of jazz musicians past. And, as it has for decades, the neon "Hotel Dunbar" sign still watches proudly over the Avenue.
In 2019, life on Central Avenue is markedly different both from its heyday in the 1920s-1940s, and its years marked by disinvestment and strife beginning in the 1960s. It exists neither as a glittering mecca of culture and nightlife nor as a crime-ridden wasteland. The jazz in the "Jazz Corridor" is a spectre on Central Avenue—a few historical markers hanging from lamp posts acknowledge this history, the annual Central Avenue Jazz Festival is a local favorite, and Delicious at the Dunbar's newly instituted Saturday jazz events harken back to bustling nights of music and revelry along the Avenue. But what has unequivocally stood the test of time at the Dunbar are the tenets of hospitality and community stemming from Dr. Somerville's vision for the hotel nearly 100 years ago. The residents we met—Netta and Shirley who were sharing conversation and sunshine outside on Central Avenue, and of course, Mama Glo—welcomed us to share in their pride for their community, and the significance of the Dunbar at the center of it all. Before she let us in the building, Mama Glo spoke about the Dunbar and the Alabam back in the day, and we said how we wished it was still like that. "It's coming back," she said. We sure hope you're right, Mama Glo.
The Dunbar Hotel and Club Alabam are located at
4225 S. Central Avenue
and has been declared a Los Angeles Cultural Historic Monument.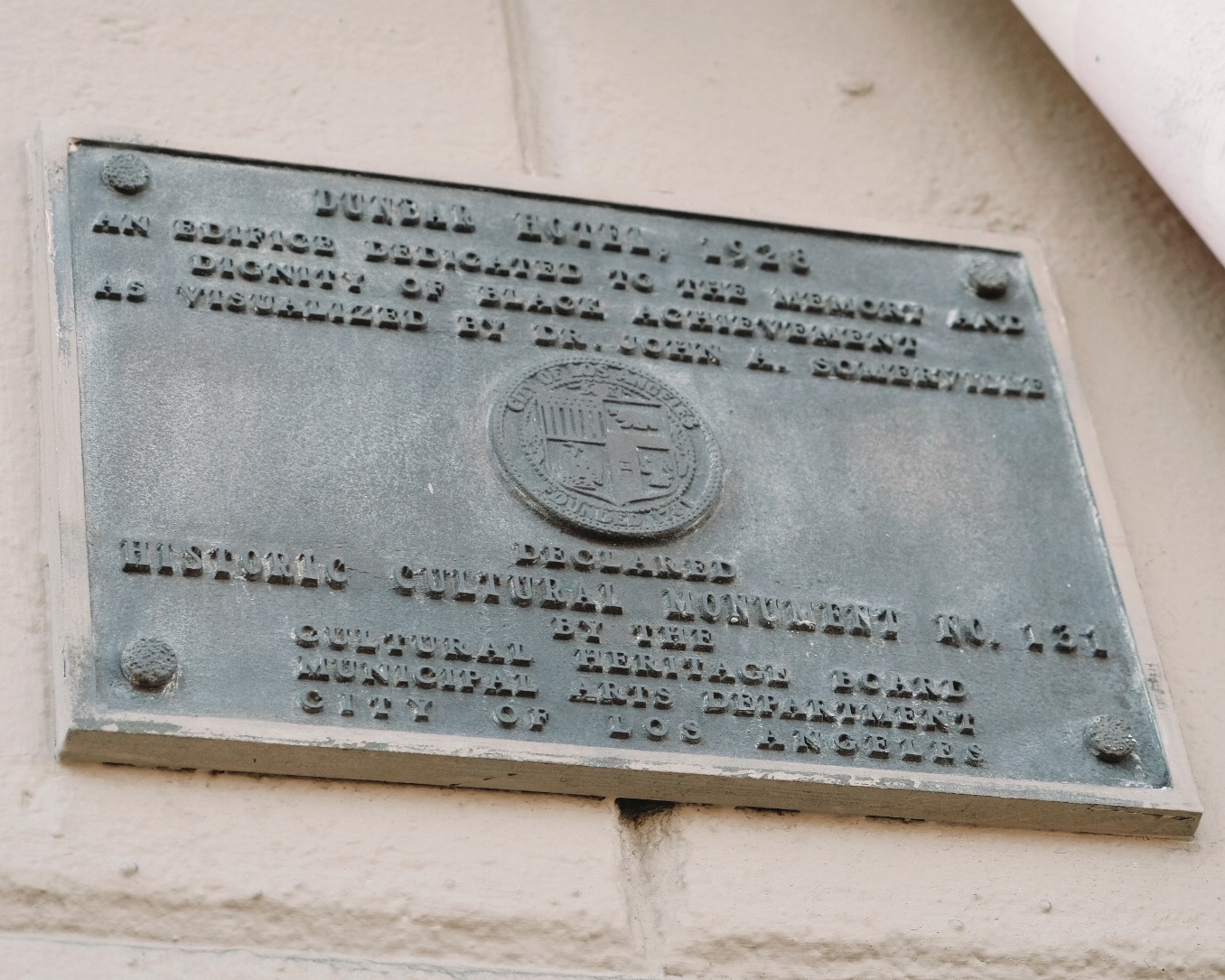 Sources:
Bogle, Donald. Bright Boulevards, Bold Dreams. New York: One World Books, 2005. Print.
Bryant, Clora. Central Avenue Sounds: Jazz in Los Angeles. Berkeley, CA: U of California, 1999. Print.
California Eagle [Los Angeles] 9 June 1917: 4.
Djedje, Jacqueline C., and Eddie S. Meadows. Soul of California: Music of African Americans in the West. Berkeley: U of California, 1998. Print.
Du Bois, W. E. B. "Hotel Somerville." The Crisis. Sept. 1928. Print.
"Fess White at Club Alabam's Grand Opening." Los Angeles Sentinel (1934-2005), Oct 11 1934, p. 6. ProQuest. Web. 23 Jan. 2019.
Gould, Jay. "Race Track & Gossip." California Eagle [Los Angeles] 22 December 1938: 7-A. Print.
Gould, Jay. "Globe News & Gossip." California Eagle [Los Angeles] 2 February 1939: 8-A. Print.
"Hitting the Nite Spots." Los Angeles Sentinel (1934-2005), Jun 12 1947, p. 21. ProQuest. Web. 23 Jan. 2019.
Jackson, Fay. "'I'm an Accident' Maxine Sullivan Tells Scribe Here." California Eagle [Los Angeles] 21 April 1938: 14-A. Print.
Jefferson, Alison Rose, et al. "Los Angeles Citywide Historic Context Survey, Context: African American History of Los Angeles." SurveyLA: Los Angeles Historic Resources Survey. Rep. City of Los Angeles, Department of City Planning, Office of Historic Resources, Sept. 2017. Web. http://preservation.lacity.org/sites/default/files/SurveyLA_AfricanAmericanHCS_09252017.pdf.
Levette, Harry. California Eagle [Los Angeles} 28 Aug. 1931: 10. Print.
Levette, Harry. "Behind the Scenes with Harry." California Eagle [Los Angeles] 16 May 1940: 2B. Print.
"Roosevelt Rally at Club Alabam Sat." Los Angeles Sentinel (1934-2005), Oct 31 1940, p. 1. ProQuest. Web. 23 Jan. 2019.
"Screen Stars Aid Benefit for Scottsboro Boys at Alabam." Los Angeles Sentinel (1934-2005), Apr 02 1936, p. 1. ProQuest. Web. 23 Jan. 2019.
Smith, R. J. The Great Black Way: L.A. in the 1940s and the Lost African-American Renaissance. New York: PublicAffairs, 2007. Print.
Somerville, J. Alexander. Man of Color: An Autobiography: A Factual Report on the Status of the American Negro Today. Los Angeles: L.L. Morrison, 1949. Print.
"Style show at Club Alabam." Los Angeles Sentinel (1934-2005), Dec 14 1939, p. 1. ProQuest. Web. 23 Jan. 2019.
Wilkins, Roy. "Other Papers Say: Fine Hotels in Los Angeles." California Eagle [Los Angeles] 12 October 1939: 4-B. Print.
"Would You Like to Attend a Fifth Avenue Fashion Premiere on Central Avenue?" California Eagle [Los Angeles] 29 June 1939: 9-A. Print.