The Hollywood Center Motel
Imagine for a moment some quintessential images of any noir film or novel—an unsolved murder; cops with questionable motives; starry-eyed Hollywood hopefuls on the wrong path; the moonlight shining through horizontal blinds and a puff of cigarette smoke; the dull humming of a glowing neon sign outside; and of course, a dark, seedy motel at the center of it all. While these images could easily be straight out of a Raymond Chandler novel, in Hollywood, where the line between fiction and reality is so frequently blurred, there's a place where all of these scenes played out at one time or another: the Hollywood Center Motel. Today, the tired motor court sits like an old movie prop along Sunset Boulevard, cast aside after playing a part in movies like L.A. Confidential. But the history of this decaying motel, tucked away behind a worn breezeblock wall, is no less interesting.
Standing at the center of the motel's grounds is a "Queen Anne" victorian-style house dating back to 1901, used as an office when the motel was still operational. Consistent with the landscape of LA at that time, we believe the property once existed as a ranch until some time between 1922 and 1932 when the motel's 23 units were built. From this time until at least the 1940s, it operated as a motel, welcoming visitors to its prime location just a few blocks away from the bustling theaters along Hollywood Boulevard.
By the mid-1950s, the business presumably operated as both a motel and long-term residence. In 1954, when the property was auctioned off, it was described as a "23-unit Motel—permanent & transient guest [sic]—sensational rental location—most convenient parking facilities." One of the permanent guests, Mrs. Caroline Halberstadt, lived at the Hollywood Center Motel for at least part of the 1950s until her death in 1959 at the age of 106.
By 1960, the Hollywood Center Motel was being managed by middle-aged couple, Milo Merrill and Dorothea Huttner Merrill. When Milo died in 1961, Dorothea was left to manage the hotel all on her own. In 1963, an armed robber broke into the motel and stole $180 from Dorothea, and left her with a chilling request:
A well-dressed young bandit with a bent for romance tucked the manager of a Hollywood motel in bed early Sunday, kissed her goodnight and then fled with about $180...After ordering her to hand over money from the cash drawer, the suspect told her to get in bed and tucked her in. "Be a good girl and give me a kiss," he said. She complied and he left.
Affectionately called "Mom" by the motel's patrons, Dorothea continued to manage the Motel when eventually it became a hub of all things sex, drugs, and rock 'n' roll. Mark "Hoss" Amans, a legendary road manager who worked with musicians including Paul Revere and the Raiders, Cat Stevens, and The Who, actually lived at the Hollywood Center Motel during the late 1960s and early 1970s. In his book, Where the Action Was: On the Inside of the Evolution of Rock 'n' Roll, he describes this era in the Motel's history:
For anyone in this business, the Hollywood Center Motel was the beginning, the middle, and sometimes, the end of the road. More dreams began and ended there than any other place in town. No one ever passed though there without being adopted by the manager, who we always affectionately called "Mom." Mom gave me special treatment and a discount on the room...There was a large building behind the motel where groups used to rehearse, so there was always a lot of rock 'n' roll being played...I have a lot of fond memories of the Hollywood Center Motel. Mom always had pictures of the groups that had stayed there in the office on the wall, and there were a lot of them; including the Raiders. To this day, it is still there. I have driven to it and looked around a couple of times and it brings back memories, but it is pretty run down now...it is definitely a landmark in Hollywood for rock 'n' roll.
For a time, the Motel was also home to folk-rock group Buffalo Springfield, with band member Richie Furay retrospectively describing the motel as "...even seedier than it's pictured in [L.A. Confidential]. It was a crash pad for musicians like us who had to pool their cash to rent even the crummiest excuse for shelter." But musicians weren't the only ones down on their luck and trying to find refuge at the Hollywood Center Motel. Quickly, it became a haven for hard drugs, prostitution, and other illicit activities. Michele Ann Grey, a sex worker sharing a room at the Motel with three other guests, went out around 10:00 p.m. on November 28, 1976 to try and earn money for rent. Her body was found in a vacant lot near Chinatown the next morning.
The rapid decline of the Hollywood Center Motel reached its low point in the fall of 1986. A man checked in to room 304, paid in cash for about a two month stay through November, and asked that no one enter his room—a strange request by average hotel standards, but not at the Hollywood Center Motel. One unsuspecting maid didn't get the "no-entry" memo, and entered the room only to find an overwhelming smell coming from a large trunk in the closet. When LAPD detectives arrived in the afternoon of October 18, 1986, they opened the trunk and found the decomposing body of 20-year old Richard Mayer, dressed in nothing but a clear plastic raincoat and wrapped in two trash bags.
Mayer had been drawn to the gritty rock star lifestyle that buzzed around the Motel, and worked as a roadie for some of the bands that passed through. As the LAPD's investigation into the murder continued, something much bigger surfaced. Mayer's murder was briefly linked to the infamous Billionaire Boys Club ("BBC")—a group of unconscionable opportunists who ran a ponzi scheme in the 1980s and turned to murder when the money dried up. The events relating to the BBC have been sensationalized in the news and adapted into two different films. A more in-depth overview of the crimes can be found here.
Physical evidence in the Mayer murder investigation overwhelmingly pointed to Dean Karny, an integral member of the BBC. During this time, Karny had also flipped against BBC leader Joe Hunt, and was cooperating with the LAPD to build a case against Hunt for two other murders. Upon further investigation it was decided that the Mayer evidence too perfectly pointed at Karny, that it must have been a setup, and he was dropped as a suspect. While it's possible that Karny was being framed, Hunt's defense speculated that this was a convenient narrative to maintain Karny's credibility in the Hunt trial. Mayer's murder remains unsolved to this day, and the LAPD Cold Case Homicide Unit did not respond to our request for more information.
Given its criminal history, it may come as no surprise that the Hollywood Center Motel is used as the scene of a fictional murder in the 1997 film L.A. Confidential. In an attempt to blackmail the L.A. District Attorney, Hush-Hush editor Sid Hudgens (Danny DeVito) and Detective Jack Vincennes (Kevin Spacey) plot an illicit (by 1940s standards) homosexual tryst with struggling actor Matt Reynolds (Simon Baker). Vincennes has a change of heart about the set-up, and rushes to the Hollywood Center Motel, only to find Reynolds' dead body on the floor of Room 203.
Today, slowly decaying behind the breezeblock walls along Sunset Boulevard, the Hollywood Center Motel still stands, largely untouched, unkempt, and overgrown. The age and patina make it look more like something a talented set designer would have constructed in a Hollywood backlot for a '40s noir film, rather than actually operating as a motel (though some unfortunate Yelp reviews indicate it was still operational as recently as 2014, the phone number has since been disconnected). The property no doubt invites speculation—a newer model Mercedes Benz and other nice cars sit idly in the Hotel's parking lot; a man quickly enters and locks the main gate behind himself before scurrying around the property, seemingly tending to nothing. Who is he? Who do these nice cars belong to? What goes on behind these sordid walls?
Time will only tell whether this small motel, with such a dark and complicated past, will ever be restored and reopened, or simply demolished to make way for something new. No matter the outcome, lets just hope that the Motel's role as a backdrop for murder remains on the big screen.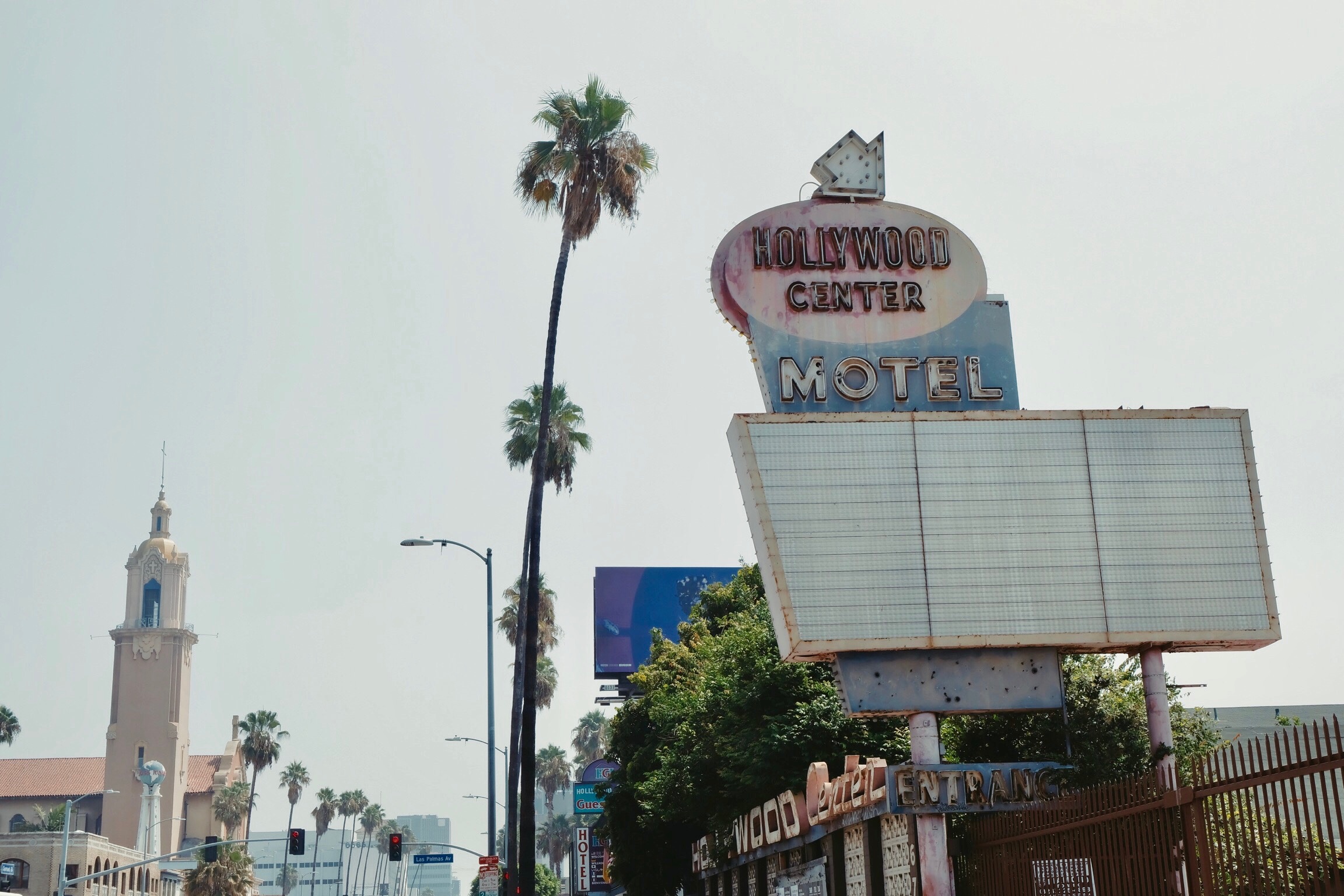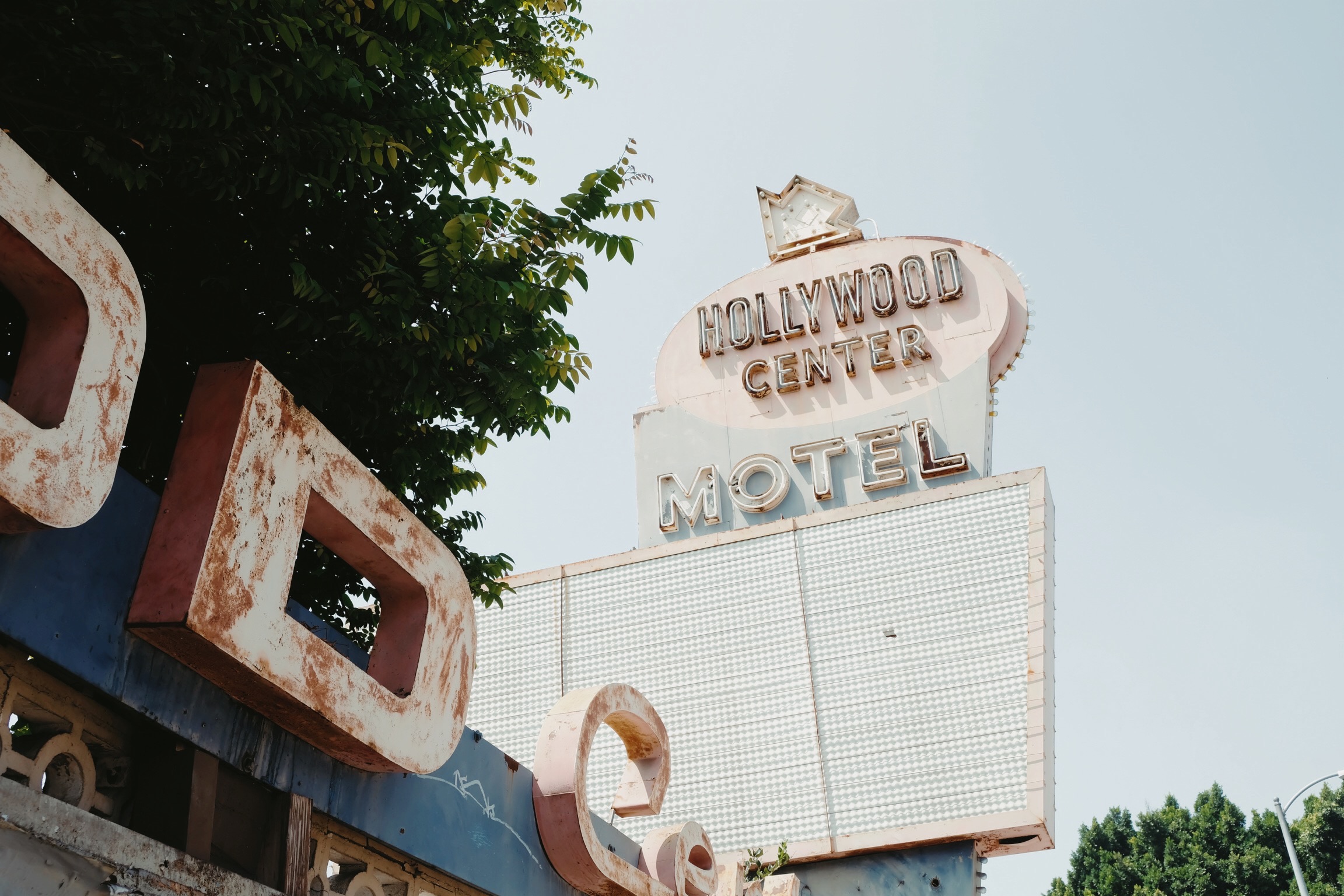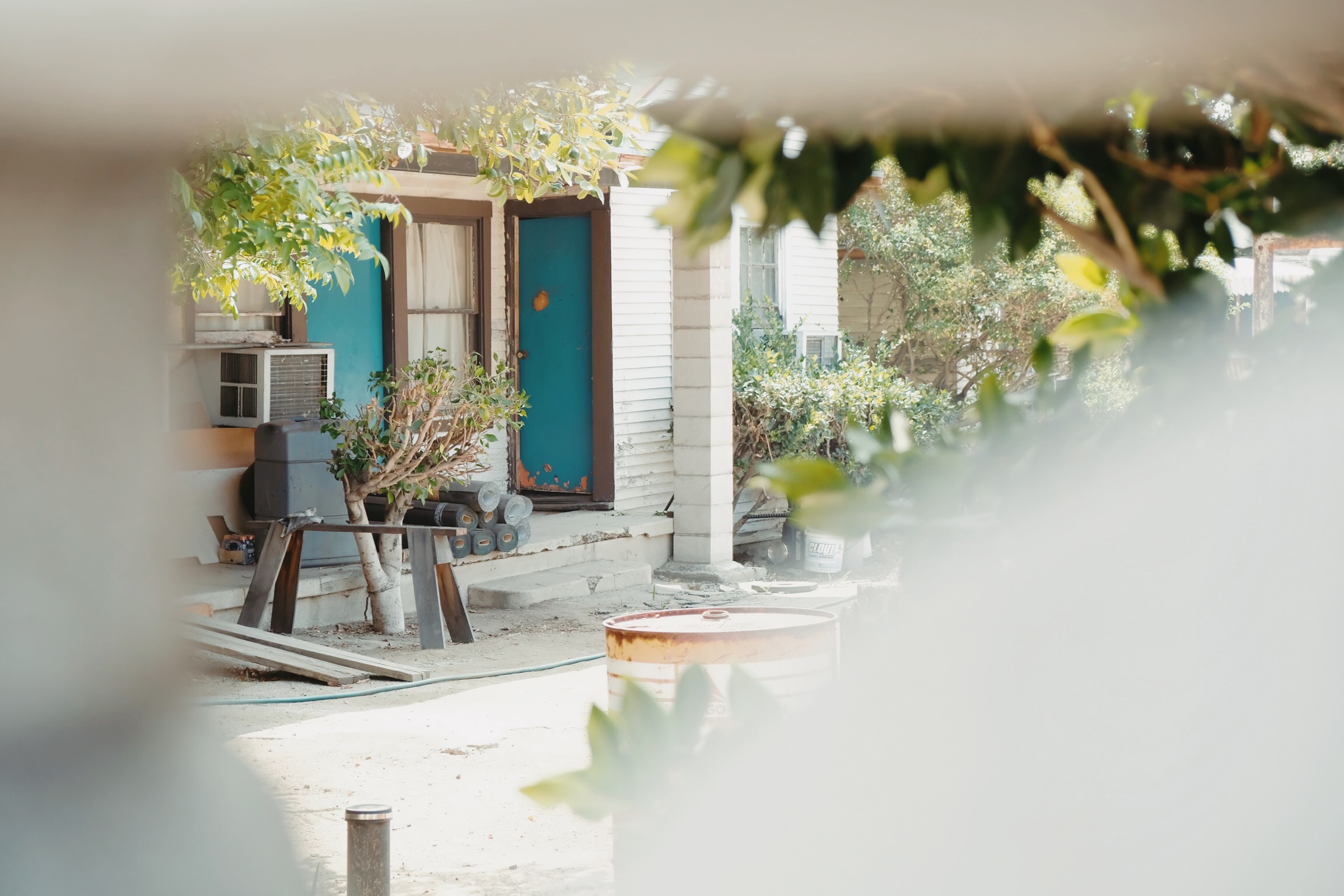 Sources:
Amans, Mark "Hoss". Where the Action Was: On the Inside of the Evolution of Rock 'n' Roll. Xlibris Corp., 2011.
Beyette, Beverly. "Paramedics Answer the Public's Cry for Help." Los Angeles Times (1923-1995), Jun 11 1978, p. 10. ProQuest. Web. 18 Aug. 2018.
Brazil, Eric. "Murder Defense Wants Witness' Secrets Revealed." SFGate. San Francisco Chronicle, 26 May 1999. Web. 18 Aug. 2018. https://www.sfgate.com/news/article/Murder-defense-wants-witness-secrets-revealed-3082433.php.
Catholic News Service. "THIS MISS LOST A KISS AND $180." Independent (Long Beach, CA), 20 May 1963, p. 1. Web. 21 Aug. 2018.
Chambers, Marcia. "JUDGE DELAYS CALIFORNIA MURDER TRIAL." The New York Times Archives. The New York Times, 18 Jan. 1987. Web. 18 Aug. 2018. https://www.nytimes.com/1987/01/18/us/judge-delays-california-murder-trial.html.
"Display Ad 16 -- no Title." Los Angeles Times (1923-1995), Jan 10 1954, p. 20. ProQuest. Web. 18 Aug. 2018.
Furay, Richie, and Michael Roberts. Pickin' up the Pieces: The Heart and Soul of Country Rock Pioneer Richie Furay. Colorado Springs, CO: WaterBrook, 2006.
Goodwin, Christopher. "Appeal of the Yuppie Killer." Sunday Times, May 19 1996, p. 10. ProQuest. Web. 18 Aug. 2018.
Huttner, Sidney F. "Dorothea Louise Huttner Merrill." The State Archives. State Historical Society of North Dakota. Web. 27 Aug. 2018. http://history.nd.gov/archives/manuscripts/inventory/11296.html.
Kelly, Grey Carlisle. "Physical Evidence." River Teeth 7.1 (2005): 19,26,136. ProQuest. Web. 18 Aug. 2018.
"OBITUARIES." Spokesman Review, Jul 15 1997, ProQuest. Web. 18 Aug. 2018.
"Obituary 2 -- no Title." Los Angeles Times (1923-1995), Feb 07 1959, p. 19. ProQuest. Web. 28 Aug. 2018.
Sullivan, Randall. The Price of Experience: Money, Power, Image, and Murder in Los Angeles. New York: Atlantic Monthly, 1996. Print.
Timnick, Lois. "New Allegations Surface in 'Billionaire' Club Murder Case." Los Angeles Times (1923-1995), Dec 07 1986, p. 1. ProQuest. Web. 18 Aug. 2018.