Earl Carroll Theater
"Mr. Carroll, find me a beautiful girl...she must be grand, she must be planned only for love. Mr. Carroll, find me a beautiful girl...let all her charms fit in my arms just like a glove."

"Through these portals pass the most beautiful girls, of that you will agree. So while I pass the most beautiful girls, won't you pass one on to me?"
Those famous words, "through these portals pass the most beautiful girls in the world," emblazoned in bright neon above Sunset Boulevard, once beckoned people from across Los Angeles to come to see one of the most glamorous, risque, and tantalizing shows the world had ever known. This was the famous Vanities at Hollywood's Earl Carroll Theater; a revue known as much for the soaring music, infectious comedy, and elaborate costumes as it was for the scantily-clad performers themselves. Yet today, the now-empty theater shows no signs of the grandeur that attracted a packed house of moviegoers and movie stars alike during its brief, but unforgettable mark on Los Angeles during Hollywood's heyday.
In spite of the storied past the Theater has today, it could have just been another LA playhouse or movie theater if it was not for the great showman himself, Mr. Earl Carroll. Though today he may be fondly, or notoriously, referred to as "the most famous connoisseur of female flesh in the history of show business," Earl Carroll began his career as a struggling stage producer, coming to New York City after World War I and hoping to catch his big break on Broadway. After a series of shows that quickly flopped, Carroll finally made his mark with the play White Cargo—a play whose provocative scenes of a white man falling in love with an African woman inflamed the press and local religious leaders, and gave Carroll his first of many run-ins with the law. Although the charges were ultimately dropped when Carroll placated the police with promises to soften the play's most scandalous scenes (which he never did), the show gave Carroll his first bout of success, and encouraged him to develop his first Broadway revue.
At a gala celebrating the success of White Cargo, Carroll first proposed his idea for the Vanities. Referring to Flo Ziegfeld, of Ziegfeld Follies fame, Carroll explained "the tremendous success he's had in presenting beautiful girls bedecked in jewels and furs. Let Flo spend money dressing them. My plan is to undress them, and display them in more expensive settings than Ziegfeld ever imagined. Everything will be bigger! If Ziggy uses 50 girls, I'll use 100!"
Carroll's grand ideas came to fruition in his Vanities of 1924, including much more salacious displays than those that got him in hot water with obscenity laws not long before. In fact, the show's biggest number, "Blue Paradise," which he billed as a biblical scene of the story of King Solomon, included a "peacock dance" where women would perform fully nude with nothing but a large feather fan. According to one biographer, this led to Carroll's own invention—small pieces of flesh-colored tape that he first described to the girls as "pasties."
Carroll's flair for the dramatic propelled his success on Broadway, but it also precipitated his continued brushes with the law. This culminated in a raucous 200-person party at the New York Earl Carroll Theater in February 1926. It was at this party that Carroll orchestrated a stunt in which one of his chorus girls, Joyce Hawley, appeared nude in a bathtub full of champagne, enticing party-goers to fill their glasses. Unbeknownst to Carroll, one of the guests in attendance was a tabloid reporter and the news quickly made headlines, leading to Carroll's arrest. Carroll claimed it was just "ginger ale,"and was sentenced to a year in federal prison for lying under oath.
Carroll's incarceration and scandals, combined with the effects of the Great Depression on Broadway, eventually left him bankrupt. In 1934, Carroll made his way out to Hollywood after being approached by Paramount Pictures to bring his earlier Murder at the Vanities stage show to the big screen. One account claims that over 800 women came to the casting call for Murder at the Vanities. Carroll hand selected the lucky 11 ladies who made the cut, including Beryl Wallace, an actress who got her start in Carroll's Vanities on Broadway.
With this fresh start in Hollywood, and with the help of wealthy benefactor, Jessie Schuyler of Beverly Hills, Carroll eventually broke ground on a brand new theater in an attempt to bring his Vanities stage show out to the West Coast. For the new theater, located at 6230 Sunset Boulevard, Carroll tapped architect Gordon B. Kaufmann, who is also credited with the design of the Los Angeles Times Building and Santa Anita Park. The plans for the new $500,000 theater-restaurant called for a dining room with six balconies, a "streamlined design" interior, and two revolving stages—one of which was 80 feet around, the largest of its kind at the time.
Written specifically about the Earl Carroll Theater, the song "Mr. Carroll, Find Me a Beautiful Girl" was written by Lionel Newman, who got his start as a composer for Carroll's theater at the age of 16. A legend in his own right, Newman went on to become head of the Music Department at 20th Century Fox, where the building still bears his name.
When the new Hollywood Earl Carroll Theater opened to a packed house in December 1938, the lavish design of this new supper club-style theater was merely a backdrop for the over-the-top productions that Carroll produced for his audiences. The first show to appear at the Earl Carroll Theater, Broadway to Hollywood, had a cast of over 100 performers, including, of course, the "Sixty Most Beautiful Girls in the World." In one of the numbers, "Candlelight," the chorus girls climbed 100 stairs, over 135 feet in the air. The revue dazzled audiences, causing one early reviewer to write:
The Earl Carroll Theatre-Restaurant is an enormous cave hung with neon stalactites and dazzling in a stark sort of way. The opening night show was a Hellzapoppin-without-Olsen-and-Johnson, performers, platforms and microphones appearing and disappearing on wrong cues, the stage revolving in both directions and meeting itself coming back, and obsequious waiters scuttling around on all fours (to say nothing of the La Conga dancers from the audience)...Certainly the revue, "Broadway to Hollywood," has the prettiest girls and the freshest costumes yet seen west of Schenectady. In every other particular, also, this is a typical Earl Carroll "Vanities" of the 1920s—no tax on mind, heart or funnybone. Except for a clown billed simply as A. Robins. He's grand. You'll go, of course.
Carroll's showmanship, both on and off the stage, followed him from New York to Los Angeles. For instance, in January 1939, Carroll was cited because of one of the show's acts that included girls carrying lighted candles in their hands and on elaborate headdresses, which violated a local fire ordinance. To defend the charges, Carroll brought his chorus girls to the Fire Commission's office to demonstrate that the costumes were fireproof. These talented ladies paraded around a panel of all men who were more than happy to judge for themselves and let Carroll off with a simple warning. Carroll found the law, and society in general, to be much more uninhibited in LA compared to his time in New York. Playing to an unrestrained crowd, Carroll's extravagant theater and scintillating revues were a smash hit. When Carroll revealed his new show, World's Fairest, in June 1939, one reviewer exclaimed, "[o]ne views practically a revival of old Ziegfeldian days in the earlier ensembles, with their rococo glitter, yet they symbolize the gorgeous in unmistakable manner. Feminine beauty is lavishly revealed to the vision and even in Hollywood, which makes so much of that particular element, the Carroll selections seem unusually eye-filling."
The highlight of the World's Fairest revue was "Nirska," a "butterfly dancer" whom Carroll brought to the show from India. Her elaborate performance involved large butterfly wings made of 400 yards of satin.
Yet it was Carroll's third show, The World of Pleasure, debuting at the Theater in December 1939, when the dazzling performances really reached new heights. Among the numbers and effects in this new show were the "Tripod Parade," where "three-legged girls" marched in military formations; "Desert in the Springtime," in which girls performed in "old-fashioned picture hats" made of "pure spun glass;" a tower of baby grand pianos going 18 feet into the air; lighting effects using anti-aircraft spotlights, and a "Finale in Fire" with "fireworks taking the form of very sparkling sparklers, not to speak of very dizzying damozels." One of the most impressive numbers was one later added to the show, "Fan Fantasy," where "the 'Sixty Most Beautiful Girls in the World,' each carrying a white fan that is later illuminated by hidden colored electric lights, provide a living background for the terpsichorean effort." The "Sixty Most Beautiful Girls," led by the show's star, Beryl Wallace, were the supper club's main attraction. As one columnist wrote, the "test of any actor's standing: His ability to date Earl Carroll girls…"
By 1940, Carroll's revues claimed to have entertained over 250,000 patrons. Although the dinner theater advertised its "moderate prices" (dinner started at about $1.50) and attracted guests from all over the city, it also included a private "inner circle club" for celebrities. As a publicity stunt, Carroll had some of his celebrity friends autograph cement blocks, which were then hung on the exterior of the Theater. Among the celebrity patrons of the Theater whose autographs appeared on Carroll's "Wall of Fame" were Humphrey Bogart, Joan Crawford, Boris Karloff, Rita Hayworth, Cary Grant, and Lana Turner. Over the years, however, the blocks somehow disappeared. In February 2018, it was discovered that a private owner had somehow accumulated them, and had 80 still in his possession. He previously had them on display in a theater he owned in San Diego, but they are now kept safely tucked inside a warehouse. We can only hope that a generous patron will purchase these historic blocks as a set, and return them to the Theater where they belong.
Earl Carroll was the flamboyant impresario behind all of the Theater's grand revues. However, it was his muse Beryl Wallace who was quite literally the face of the Theater. Not only was she featured in many of the Theater's lavish performances, she was also the model for the massive portrait on the outside of the Theater, emblazoned in neon like a spotlight along Sunset Boulevard. Throughout the height of the Theater's popularity in the 1940s, Wallace was also a famous pin-up girl, radio personality, and film star. To Carroll, she was the star of both his professional and personal life.
Then, tragedy struck on June 17, 1948. Carroll and Wallace, at their height of their success, died along with 41 others when their New York bound plane crash-landed in Pennsylvania. The Theater closed not long after their death in October 1949, unable to stay afloat financially without Carroll and Wallace at the helm.
The theater changed hands and identities over the next several decades. In 1953, Las Vegas showman, Frank Sennes, reopened the theater as the Moulin Rouge, a Parisian inspired dinner theater. In the 1960s, the theater transformed into the Hullabaloo and Kaleidoscope rock clubs. In 1968, the theater again reopened, this time as the psychedelic Aquarius Theater. The theater changed hands again in the 1980s and 1990s, and the stage was largely gutted and transformed into a TV studio. Most recently, Nickelodeon Studios called the theater home. Finally, in December 2016, this tired and soon-to-be vacant theater was granted Historic-Cultural Monument status by the city of Los Angeles, and saved from any threat of future demolition.
So what has become of Mr. Carroll's theater? As part of an agreement between current owner, Essex Property Trust, the LA Conservancy, and Hollywood Heritage, development plans seek to restore and re-open the space as a public theater. Perhaps most notably is the plan to recreate the famous neon portrait of Beryl Wallace that once shone brightly over Sunset Boulevard. In February 2018, we had the opportunity to go inside the landmark theater as part of a tour sponsored by the Los Angeles Historic Theater Foundation. The event provided an update on development plans, and a behind the scenes tour. The most incredible remaining area of the Theater's interior is its grand lobby, which still displays all of the same streamline moderne details of the Earl Carroll days. The "Goddess of Neon" stands at the original entrance; once encircled with a long rod of neon that travelled through the entire lobby and twisted around her silver figure, she still welcomes guests to the Theater as she did back in the 1930s and 1940s. Through the lobby and past the decadent bar, rises an "imperial staircase" with wooden paneling, original to the theater's opening in 1938, and leading up to the men's and women's lounges and restrooms.
Inside the former dining space, there are few remnants of the original Earl Carroll Theater. So much was deconstructed and demolished to make way for a soundstage in prior decades. During its heyday, the dinner theater's interior, designed by one of the founders of streamline moderne style, Alexis de Sakhnoffsky, was a sight to behold: a ceiling of black patent leather, walls of green satin, six terraces with tables, and over 6,200 feet of neon lights. It's impossible to think of all of the beautiful and architecturally significant design elements that were stripped away over the years.
As for the original stage, all the structural foundations for Carroll's elaborate stage productions still exist, albeit hidden below the black soundstage floor. You can still see the motors and gears that once turned the stage's two rings—which could turn independently at different speeds and in different directions—as well as the orchestra pit and riser, where the band and emcee would ascend from beneath the stage. Now, all of these mechanical effects, so advanced for the time period in which they were constructed, lie dormant beneath an empty studio.
Despite uncertainty around the Theater's fate in recent years, there is much (cautious) optimism surrounding the developer's plans to bring Earl Carroll's once grand theater back to life. This space deserves to be enjoyed as Mr. Carroll had intended, and these "portals" deserve to welcome new generations of theater-goers searching for art, spectacle, and beauty. We'll be following along closely for construction updates, and eagerly await the day when this historic landmark can once again light the neon portrait of Beryl Wallace, watching over Sunset Boulevard like the patron saint of the Vanities revue, and fling open its doors to the public.
The Earl Carroll Theater is located at 6230 West Sunset Boulevard and is designated as Los Angeles Historic-Cultural Monument No. 1136.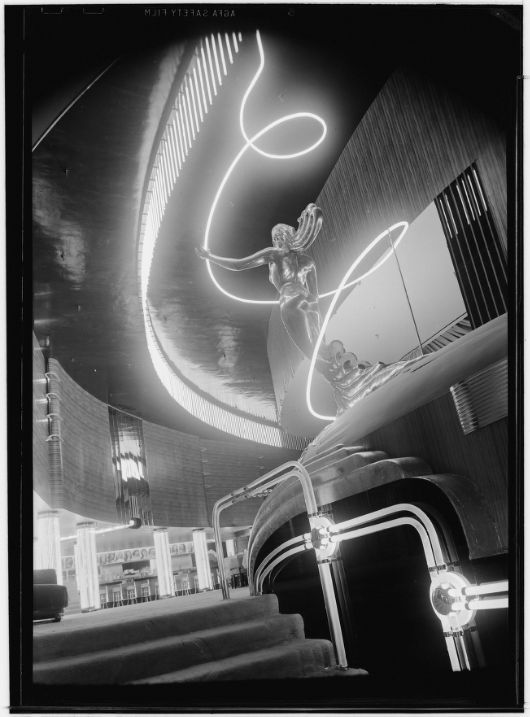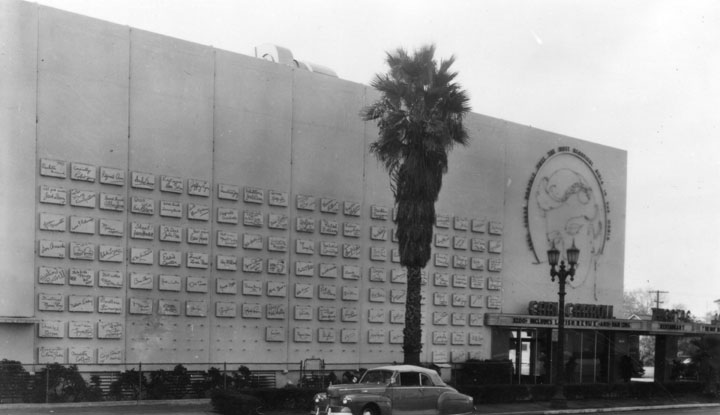 Sources:
A, P. N. W. "WINE TUB BATH DESCRIBED." Los Angeles Times (1923-Current File), May 22 1926, p. 3. ProQuest. Web. 5 June 2018.
"CARROLL CONVICTED OF PERJURY FOR DENYING TUB SCENE." New York Times (1923-Current file), May 28 1926, p. 1. ProQuest. Web. 5 June 2018.
"CHORINES SHOW AUTHORITIES COSTUMES ARE FIREPROOF." Los Angeles Times (1923-Current File): 1. Jan 10 1939. ProQuest. Web. 22 Mar. 2018.
Cohan, Charles C. "UNIQUE PROJECT WELL ADVANCED." Los Angeles Times (1923-Current File), Oct 16 1938, p. 1. ProQuest. Web. 5 June 2018.
Drake, Sylvie. "AQUARIUS SALE MAKES WAY FOR EARL CARROLL." Los Angeles Times (1923-Current File), Feb 04 1982, p. 1. ProQuest. Web. 8 June 2018.
"Earl Carroll Files Restaurant Plans." Los Angeles Times (1923-Current File): 1. Aug 06 1938. ProQuest. Web. 6 Mar. 2018.
"EARL CARROLL STAGE REVUE TO BE UNFOLDED TOMORROW." Los Angeles Times (1923-Current File), Dec 25 1939, p. 17. ProQuest. Web. 24 Apr. 2018.
"Earl Carroll's Famed Theater-Cafe Will Close After Saturday's show." Los Angeles Times (1923-Current File), Oct 12 1949, p. 2. ProQuest. Web. 1 May 2018.
Isenberg, Barbara. "THE BOOM IN L.A. THEATERS: WILL IT TURN OUT A BUST?" Los Angeles Times (pre-1997 Fulltext), Mar 31 1985, p. 44. ProQuest. Web. 8 June 2018.
Murray, Ken. The Body Merchant: The Story of Earl Carroll. Pasadena, CA: Ward Ritchie, 1976. Print.
"MYSTERY AND MUSIC COMBINED." Los Angeles Times (1923-Current File), May 15 1934, p. 12. ProQuest. Web. 5 June 2018.
"Nirska Heads Program on Carroll Stage." Los Angeles Times (1923-Current File), Jul 10 1939, p. 9. ProQuest. Web. 9 Apr. 2018.
Rasmussen, Cecilia. "L.A. THEN AND NOW; `Body Merchant' Packed them in; Earl Carroll's Theater on Sunset was a Thriving Showcase for Beautiful Women, Setting a Trend in the '30s and '40s. it's Now the Nickelodeon." Los Angeles Times, Feb 12 2006, ProQuest. Web. 5 June 2018.
"Revue Opens Next Monday." Los Angeles Times (1923-Current File): 15. Dec 23 1938. ProQuest. Web. 7 Mar. 2018.
Ryon, Ruth. "Show Goes on Despite Redesign." Los Angeles Times (1923-Current File), Oct 31 1982, p. 2. ProQuest. Web. 8 June 2018.
Schallert, Edwin. "'the World of Pleasure' Unfolds as Earl Carroll's Newest Attraction." Los Angeles Times (1923-Current File), Dec 27 1939, p. 1. ProQuest. Web. 24 Apr. 2018.
Schmidt, Randy L. "IMPRESARIO: Earl Carroll, Beryl Wallace, and the Most Beautiful Girls in the World." YouTube. 28 Sept. 2017. Web. 22 May 2018. https://youtu.be/ZWuhpKA6cTA.
"STORY OF ORGY BRINGS INQUIRY." Los Angeles Times (1923-Current File), Feb 25 1926, p. 2. ProQuest. Web. 5 June 2018.