Western Costume Company
When author Carey McWilliams observed life in California in his 1946 Southern California Country: An Island on the Land, he spoke about the "synthetic past" of Los Angeles and its surrounding areas: "A land of magical improvisation, Southern California has created its own past, with a special cast, and a script written by its favorite troubadours… the production, with its improvised traditions and manufactured legends, has been a huge success." McWilliams at once seems to be describing Los Angeles history as well as the film industry itself, where the lines between the real and the synthetic are often blurred. A city so entwined with its play-making and "manufactured legends" of the silver screen.
As movie making started to boom in the 1910s, Western Costume Company blew onto the scene to outfit the motion picture industry, honoring and revising history through costume, and defining new standards in costume quality and accuracy. From costumes that evoke eras past and places lost, to costumes that literally are a piece of film history, history—synthetic or otherwise—hangs still today on the racks of Western Costume's collection. Walking through the warehouse in 2018 feels very similar to the early days at Western Costume. As one visitor noted in 1937, "you have the feeling that you tread among the ghosts of our predecessors as you stroll through the long aisles… a mammoth rendezvous of relics… [Western Costume Company] has given Hollywood one of the finest museums in the world." The story of the father of this costume-house-cum-accidental-museum, L.L. Burns, is just as interesting as the company itself.
Burns was an "Indian Trader" who traveled the country trading goods, and by the early 1910s, had amassed an impressive collection of Native American clothing and collectables. Burns arrived in Los Angeles after the turn of the century, and went on to work for Benham Trading Company. In 1912, Burns took over the business and established the Burns Indian Trading Company, predecessor to Western Costume. In his Indian Blankets and Their Makers, author George Wharton James recognized Burns' Trading Company as one of the top purveyors of rare and fine woven blankets. At the time of publication in 1914, Wharton James also makes mention of Burns' recent new business venture into the world of filmmaking. He recalls, "[t]housands of feet of Indian plays are made monthly. Mr. Burns has organized the Western Costume Company, and he and his associates give expert technical advice and practical assistance in the correct costuming and staging of Indian and western plays. They have a large stock of blankets, squaw dresses, etc…" In addition to his earlier Trading Company, Burns also operated a film studio in partnership with filmmaker Harry Revier, for a time housed in what is now the Hollywood Heritage Museum (the Lasky-DeMille Barn). It seems only natural that Burns would go on to combine his two worlds of filmmaking and garment trading to create Western Costume.
As Burns settled into Los Angeles, he recognized the demand in Hollywood for improved costuming, and quickly carved out a niche for himself. If film technology was to advance, costumes had to follow suit. In the early days of filmmaking, actors were often responsible for their own costumes—sometimes wearing their personal clothing on set, or haphazardly throwing together a costume that fit the scene in which they were acting. Because so many western-themed films were produced in the 1910s and 1920s, Burns was able to immediately start loaning out his vast collection of western and Native American garments as costumes. Burns soon expanded Western Costume's collection with acquisitions of second hand clothing and costumes that diversified the company's assets, and allowed them to expand beyond western-style films. The whole concept of motion picture costuming was still in its infancy, but Burns established an essential offering to the movie making business, and soon counted Robin Hood, The Hunchback of Notre Dame, The Three Musketeers, The Mark of Zorro, and The Last of the Mohicans among Western Costume's credits.
By the early 1920s, Western Costume was a bona fide success. Western Costume makes an appearance in a number of popular film magazines of the era, all gawking over the size and depth of its collection and operation. Then located downtown on South Broadway, one 1923 article alleged that Western Costume's business made up 99% of the motion picture costume trade. At the time, 154 employees kept operations moving, and the enormous stock covering twelve floors was said to be valued at more than $1.5M. As they do to this day, costume rentals catered to film productions, but starting in the 1920s, individuals could also peruse Western Costume's stock for their Halloween and costume party needs. Into the 1950s, Lucille Ball and Desi Arnaz were known for their epic costume parties requiring guests to come outfitted in elaborate garb. Lucy even joked that "Western Costume would go out of business if it wasn't for us," after directing all of her guests to rent their party attire from the company.
In maintaining with Western Costume's commitment to historical accuracy, its research library has always been an integral part of the company's operations. The filmmaker's research process was described in 1927 by one of Western Costume's employees: "When a director has selected his story, he heads first for our library, where he can secure authentic and detailed information on the dress, manners, and customs of the period and nation with which his play deals. We have a complete costume bibliography. If we haven't the needed garments in stock, we design and make new ones. We have over a million garments ready for call." Western Costume later proclaimed itself as "the mecca of photoplay building material" after outfitting Eric Von Stroheim's 1922 Foolish Wives. The gorgeous 1920s gowns and Russian uniforms are a testament to Western Costume's vast research assets, and ability to provide accuracy and quality to the films it dressed.
In the late 1920s, Edward Phillips Lambert was Western Costume's resident librarian and "comprehensive human dictionary" to the film industry. Lambert worked with field buyers who would travel the world to acquire new pieces to add to Western Costume's growing collection. These buyers were not only responsible for bringing material items home, but were also tasked to dream up and maintain "conversant knowledge of the present, past, and future" of all of the places they visited. One of the most interesting acquisitions was a 1923 purchase of two Viennese royal carriages, furs, insignia, medals, and various uniforms including a coat worn by Emperor Franz Josef. One Austrian actor had the surprise of his life when he came into Western Costume for a fitting, and encountered his own personal coat and medals being presented to him as costume.
In the 1920s and 1930s, actors were regular fixtures in the hallowed halls of Western Costume. In 1928, journalist Fred Gilman Jopp followed Lambert around Western Costume's facilities and marveled at how during their tour "no less than fifteen motion picture celebrities stopped Mr. Lambert with a 'Hello Ed!'" Film stars into the 1920s and 1930s remained invested in the look and accuracy of their costumes. In 1938, another Western Costume guest was star struck after bumping into Fredric March, Gary Cooper, and Basil Rathbone during his visit. John Barrymore also frequented Western Costume, usually "with a sketch he has drawn himself, as he always knows what he wants, and for hours wanders alone in our stockrooms trying to find the kind of costumes he has in mind." And wander, they did.
The original Broadway location was a "treasure house" boasting 12 floors chock full of costumes, wigs, shoes, and props, with an automobile elevator for carrying out treasures by the car full. The collection boasted "medals and insignia that is said to be the finest in America," gun stock "sufficient to equip an army of ten thousand," "every conceivable variety of clothing – from uniforms of every nation and period of history even to the proverbial fig leaf… a stuffed camel, a glass eye, a coffin. Shoes, ships…" Meanwhile, in Western Costume's workrooms, "tailors, seamstresses, designers, cobblers, saddlers, artists, librarians, armorers, and… expert artisans make boots, shoes, leather trimmings, wigs, jewelry, costumes, and crowns and tiaras for the queens of Hollywood." This vast collection seemed to house every conceivable piece of clothing and accouterment. To this day, Western Costume prides itself especially on its historical and period costumes, having created a "storehouse of memories" described at length by journalist Caroline Bell in 1927:
An entire floor of the Western Costume Company is devoted to art and period pieces… I was held spellbound by the sights I saw on this particular day. First, there was the salon, peopled with history. The long room was lighted with a subdued glow from old lanterns. My feet sank into the welcoming softness of a Persian rug. A lackey led me to a tapestried chair, where I set and watched a strange procession pass by. A broad-shouldered Henry VII… in damask and rich velvet… a Puritan, in a wide-brimmed, high-crowned hat… an uncompromising, brocaded Tudor dame… a tight-bodiced, stiffly beskirted and beruffed lady of Elizabeth's court…[and] a beautiful brunette, whom I recognized as Alma Rubens, dropping wearily at a fragile Marie Antoinette escritoire… while waiting for her old-fashioned clothes… How odd, that mixture of ages and nations and dress! Was a dream, or a fairy tale come true? No, we were in the showrooms of the Western Costume Company.
Despite its success, by 1932, Western Costume had filed for bankruptcy in large part as a result of the Depression, was briefly sold off to the Greenburg brothers in 1932, and then to Joe and Abe Schnitzer in 1934. In 1932 the Company also abandoned its downtown location in favor of Melrose Avenue to be closer to its studio clients. The Company continued to change hands and direction over the following decades before moving to its current home in North Hollywood where it is presently owned by Bill Haber, and run by President, Eddie Marks.
Today, while less glamorous and star-studded than its early days, Western Costume retains many of its original qualities—a busy, massive warehouse filled with historic costumes; an impressive research library; wigs, shoes, clothing, and accessories as far as the eye can see; and workrooms busy with tailors fabricating, altering, and mending costumes. The warehouse itself is organized in two main rooms, separated by men's and women's costumes. The building boasts over 8 miles of racks that hold several million articles of clothing, most of which is loaned out for background actors in film and tv productions. But wait, there's more. Meet "The Collection," Western Costume's premier collection of vintage clothing from the 1820s to 1980s, or as we like to call it, heaven. The quality and rarity of the pieces in The Collection make them more suitable for principal actors—we were left drooling over the rich colors, textures, and styles of so many vintage pieces.
While not on display to the public, one of Western Costume's most prized possessions is one of Vivien Leigh's gowns from Gone with the Wind, which is now tucked safely away in its archive. And then there are the ruby red slippers. Western Costume is not in possession of any of Dorothy's iconic shoes from The Wizard of Oz, but the costume house is responsible for fabricating several original pairs in collaboration with costume designer Gilbert Adrian. The shoes were a plain satin to start, staying true to Dorothy's silver slippers described in the literary version. A quick redesign, with a flash of red and shiny sequins, allowed the shoes to pop in Technicolor, and transformed them into perhaps the most recognizable and iconic piece of movie memorabilia in the world.
During our visit, we had the fortune of meeting Leighton Bowers, Director of Research and Archives, who led us on a tour of the massive costume collection, acted as historian, and gave us a peek inside the developing archive. A quick look around reveals racks and boxes of clothing with labels such as Gypsy, The King and I, The Great Dictator, and Some Like it Hot. In recent years, Western Costume has taken great measures to properly identify, preserve, and house the most culturally and historically significant stock in its archive. While Western Costume has endured for over 100 years, its costumes—some preserved, and others lost or forgotten—tell a story not unlike some of LA's architectural ghosts that we've explored in our other posts. Los Angeles itself is a testament to the fact that preservation does not always prevail and has not always mattered, and the same is to be said about motion picture costumes. The work Western Costume is doing is so essential to the ongoing preservation of movie history past and present. Like Dorothy's ruby red slippers, the material culture of film—props, costumes—are instant signifiers in the on-screen storytelling process. While Western Costume's main warehouse is remarkable in its size and scope, its most impressive asset is undoubtedly the archive's "rendezvous of relics" that link us to our beloved "manufactured legends" of the screen.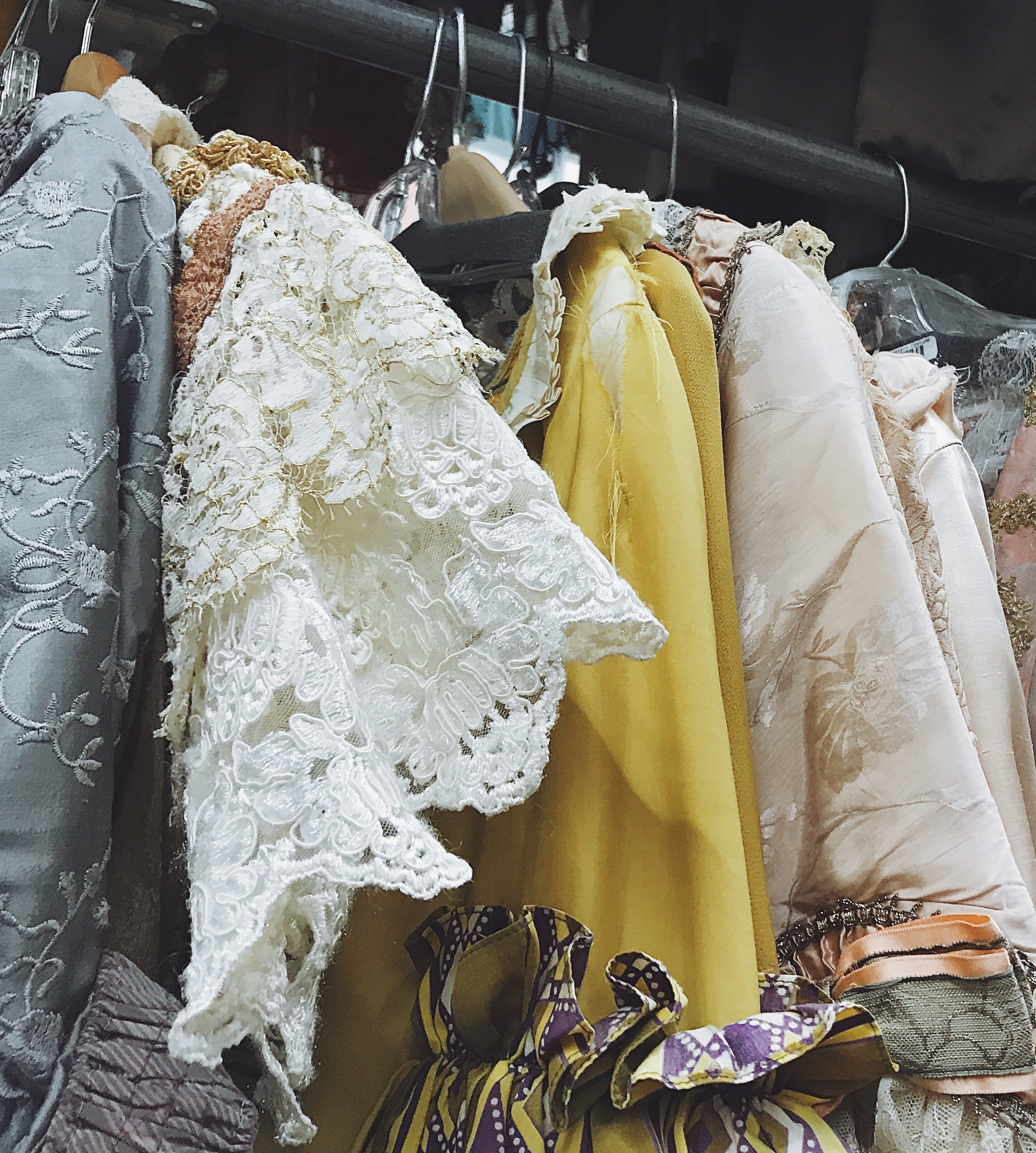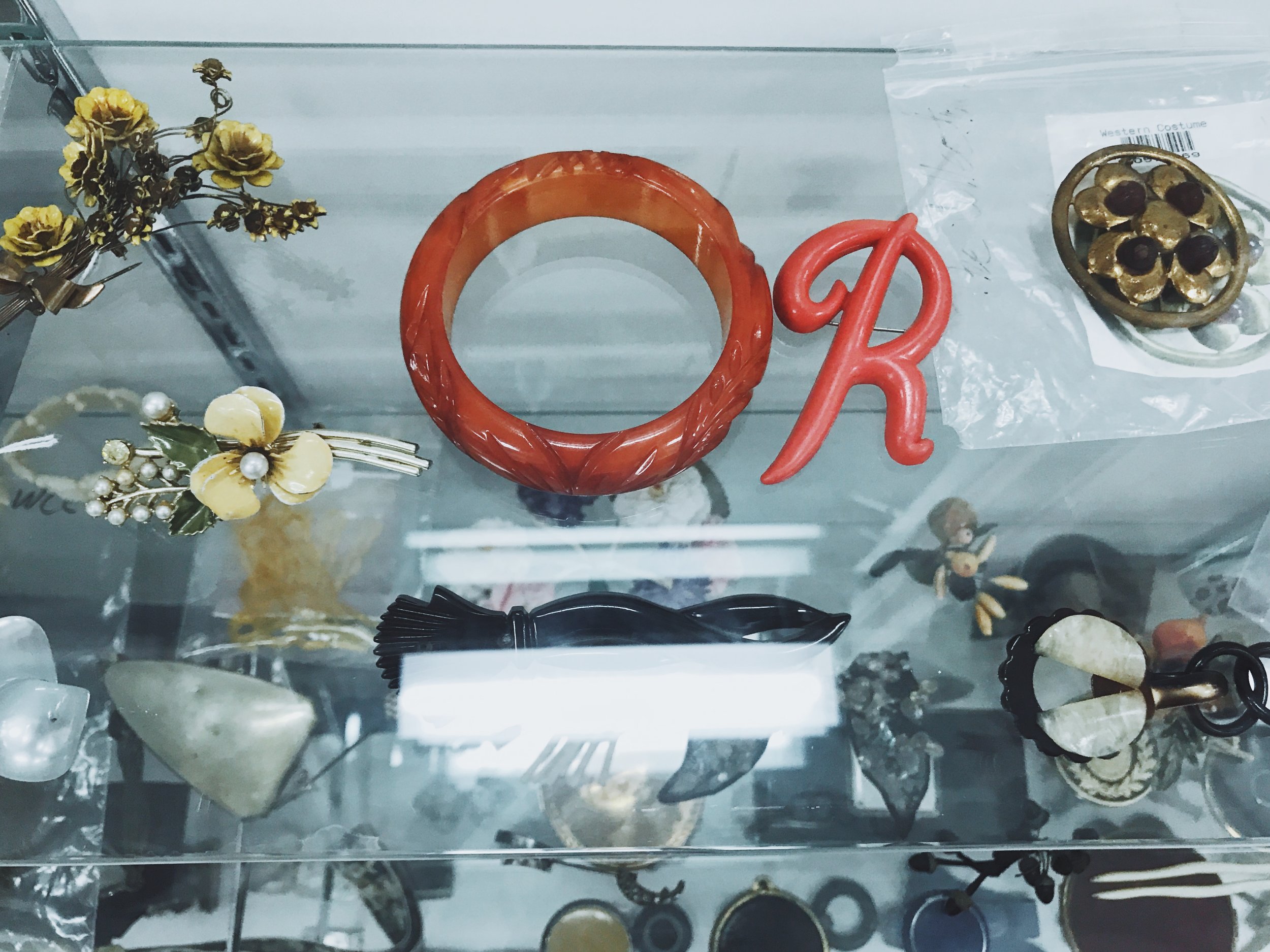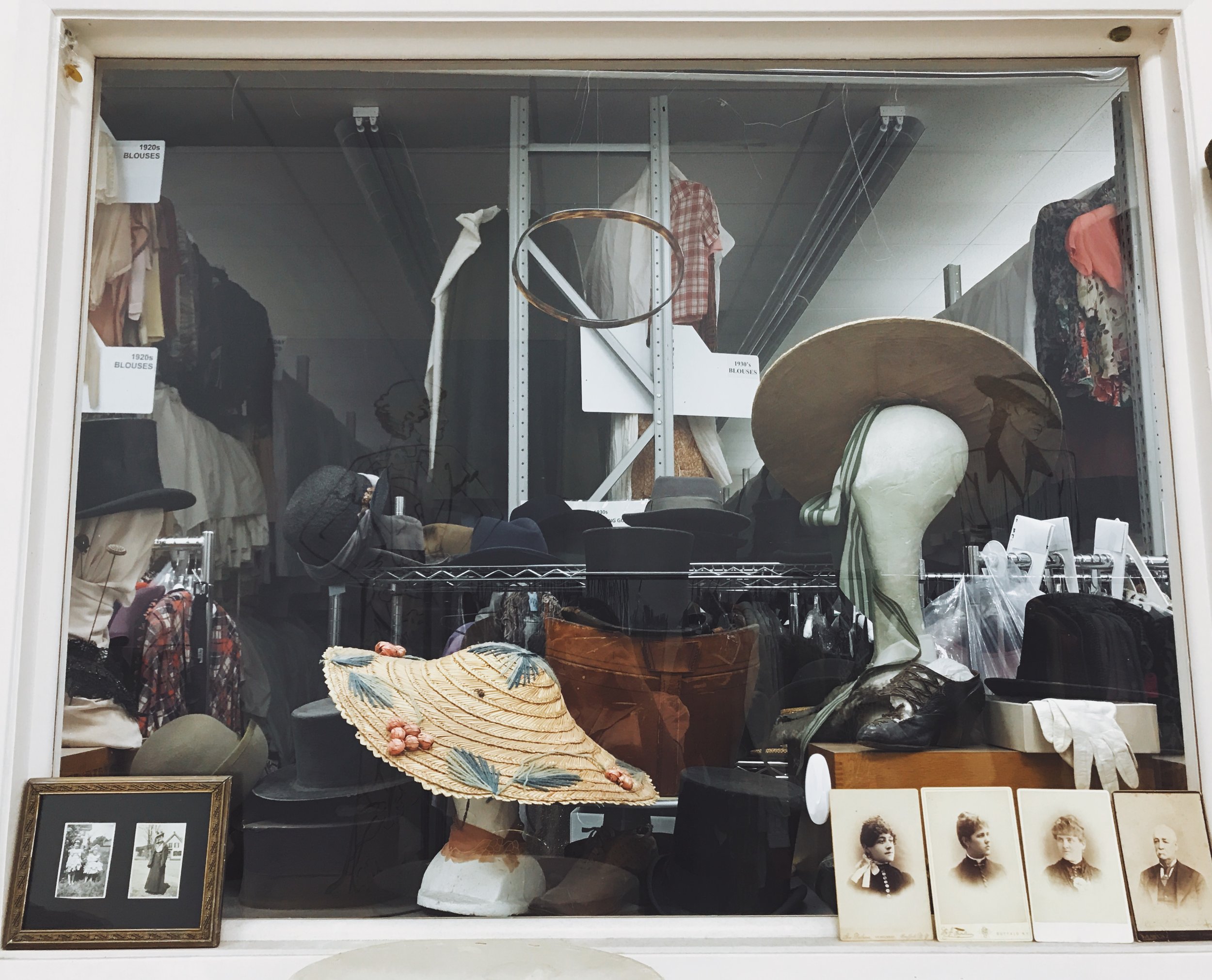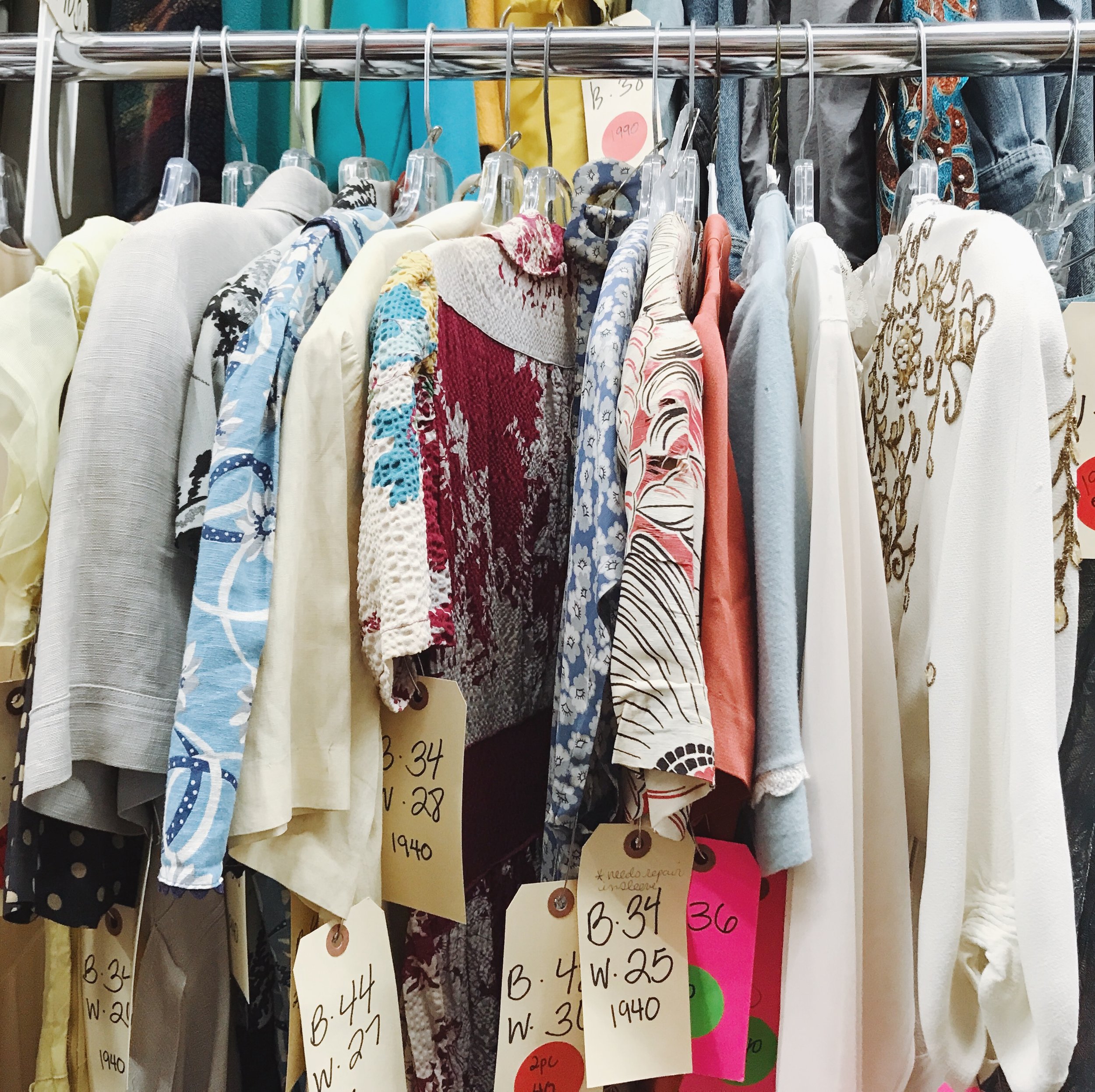 Sources:
Bell, Caroline. "What Do We Have Here? Everything!" Picture Play Magazine Feb. 1927: 83-85. Web.
"Display Ad 9 -- no Title." Los Angeles Times (1923-Current File): 8. Oct 31 1925. ProQuest. Web. 6 Feb. 2018.
"Display Ad 85 -- no Title." Los Angeles Times (1923-Current File): 33. May 24 1925. ProQuest. Web. 5 Feb. 2018.
Film Daily. 5 Jan. 1943: 2. Web.
"FIRM TO RAISE NEW STRUCTURE." Los Angeles Times (1923-Current File): 2. Jul 25 1923. ProQuest. Web. 5 Feb. 2018.
Gilman Jopp, Fred. "The Ask Me Another Man." Photoplay. Feb. 1928: 34-37. Web.
Hollywood Filmograph. 5 Jan. 1932: 2. Web.
Landis, Deborah Nadoolman. Dressed: A Century of Hollywood Costume Design. N.p.: Harpercollins, 2011. Print.
McWilliams, Carey. Southern California: An Island on the Land. N.p.: Duell, Sloan & Pearce, 1946. Print.
Modern Screen. Jan. 1952: 112. Web.
Motion Picture News. Feb. 1922: 1006-1007. Web.
"Off the Beaten Track." Silver Screen Mar. 1938: 74-75. Web.
Paige, Norman. "Gadgets, Garb and Glamour!" Movie Classic. Feb. 1937: 54-55, 72-74. Web.
Rhys, Thomas. "The Ruby Slippers: A Journey to the Land of Oz." Los Angeles Times (1923-Current File): 8. March 13, 1988. ProQuest. Web. 21 Feb. 2018.
Finamore, M. Tolini. Hollywood before Glamour: Fashion in American Silent Film. Gordonsville: Palgrave MacMillan, 2013. Print.
James, George Wharton. Indian Blankets and Their Makers. Chicago: A.C. McClurg & Co., 1914. Print.