Ebell Club of Los Angeles
The Ebell Club of Los Angeles was founded in 1894 as an educational, social, and philanthropic organization for women, inspired by the teachings of Adrian Ebell, a Yale scholar and early advocate of women's education. The Ebell's contributions to Los Angeles over the past 123 years are too numerous to recount and deserve their own spotlight. We would recommend a trip over to the Ebell's blog for a comprehensive history of the organization and its many admirable endeavors. This post will instead focus on the physical location of the Ebell, its stunning architecture and grounds, and how it has become an essential filming location for many beloved films and television shows.
The Ebell Club humbly started in the parlor of sisters, Misses Emmie and Alice Parsons in 1894, and subsequently bounced around to a few temporary homes through the latter half of the 1920s. On October 3, 1927, the Ebell opened its permanent clubhouse doors at 4400 Wilshire Boulevard after several years of planning and construction. The hard work, collaborative effort, and resulting elegant and functional clubhouse in many ways are a physical manifestation of the Ebell's members and ethos.
The clubhouse, designed by Sumner P. Hunt (husband of an Ebell member), together with the theater, grounds, and décor, quickly became the pride and joy of its members. The Ebell Club described its new home as the most magnificent women's club in the country, with members excited to have a home for "studying, listening, conversing in beautiful and comfortable rooms where others of like tastes assemble…making a social and educational center whose influence shall be unmeasurable" and to "serve others as well as to advance ourselves; to become interested as helpful citizens who stand for good government and high principles." The Ebell headquarters inspired its members so much that then President, Mrs. William Read, declared "[w]e must live up to our new home."
The clubhouse was notable for being both lavish and practical, and built in a modern Italian Renaissance-style. The members formed small committees through construction to tirelessly help budget, design, and plan throughout the building phases—each detail was executed to perfection. The building is fireproof, earthquake proof, and boasts a lush courtyard, expansive terrace, and an intricate wrought-iron entryway. We had the pleasure of attending a Sunday afternoon open house last weekend where guests and members mingled while admiring the grounds, and we wandered around to learn more about the club and building's history while sipping champagne (not a bad way to spend a Sunday afternoon!). It is almost as if time has stood still over the past 90 years at the Ebell; our experience walking into the clubhouse in 2017 seems nearly identical to how it was described in 1927:
The approach to the main entrance is up a flight of wide steps on to a terrace. The main doorway opens into the reception room and main lounge which extends almost the full width of the building. Here deep comfortable chairs and davenports, soft rugs and exquisite hangings will give a quiet air of refined restfulness. Of particular interest in this room is the decorative motif of the ceiling with its subdued but exquisite colorings. To the right of the main doorway is the grand staircase leading to the mezzanine floor…
The Clubhouse is not complete without its library, lecture rooms, theater, and art salon. But the Ebell has not always been just a site of charity and social gatherings. The Ebell Clubhouse opened its doors during WWI and WWII to contribute to Red Cross and USO needs, and members dedicated their time and resources during both wars. The Ebell's mission, members, and use of its clubhouse has always centered around charity and helping to support and enrich the community—in times of war and otherwise. With history and beauty oozing from every inch of the Ebell, it's not hard to imagine that the facilities have become a popular filming location for various films and television shows.
The Artist (2011) and The Addams Family (1991) both utilized the Ebell as a stand in for an auction house.
In the season three episode of Mad Men, "The Grown Ups," Margaret Sterling's 1960s wedding reception was filmed at the Ebell. Not much of a departure from reality, the Ebell is often rented out for exclusive weddings and special events.
Finally, perhaps most notably and most extensively, the 2017 FX series, Feud, shot many scenes at the Ebell.
During our Ebell visit, we spoke with several members who passionately rattled off stories about the club's history and the building's architecture and points of interest. We spent time admiring the Fountain of Honor that serves as a focal point in the courtyard. A bronze female figure modeled after Ebell member, Juliet Butts, the fountain pays tribute to Ebell women's family members who fought in WWI. The gardens, planned by landscape designer, Florence Yoch, are beautiful and peaceful, and recently, Yoch's nephew, James Yoch, was commissioned to help the Ebell further restore the grounds.
We continued on our tour, taking in the various department presentations, inviting current and prospective members to learn more about the club's offerings—members are able to get involved in specific areas of interest including preservation, fashion, events, social media, charity, and membership. The open house did not allow us into the theater, but we're itching to come back soon to see a performance there.
There's no doubt that the clubhouse and its members are still holding up the principals and dedication that formed the club 123 years ago. We were thrilled to visit the Ebell on the eve of its 90th anniversary on Wilshire Boulevard, and more so, to spend time at a perfectly preserved historical gem.
The Ebell Club of Los Angeles is located at
4400 Wilshire Boulevard
. It is listed on the National Register of Historic Places and has been declared a Los Angeles Cultural Historic Monument.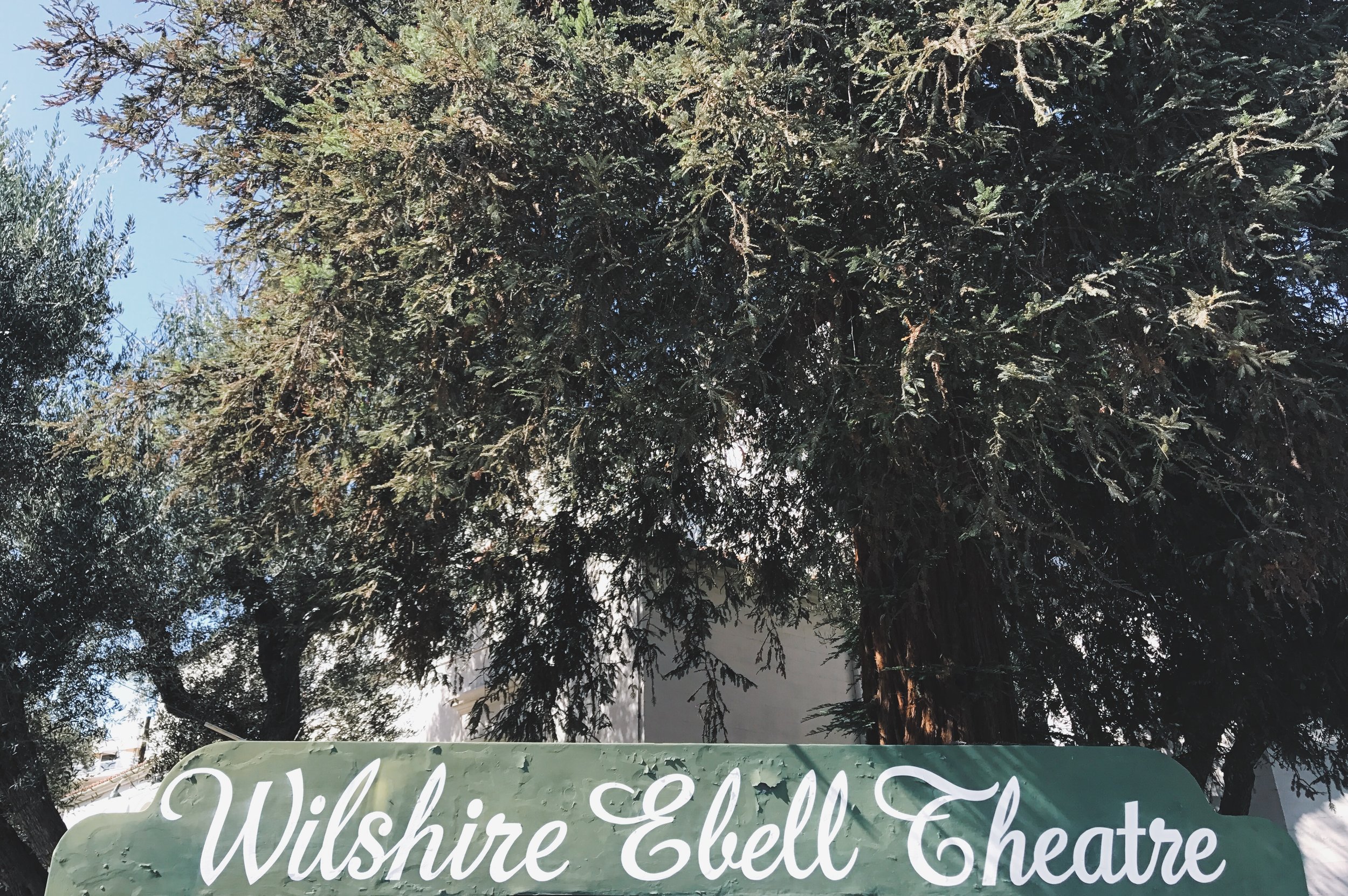 Sources:
Ebell Club of Los Angeles
The Ebell of Los Angeles
1.1 (1927): n. pag. Print.
"NEW HOME FOR CLUB DESCRIBED."
Los Angeles Times (1923-Current File)
: 33. Oct 02 1927.
ProQuest
. Web. 24 Sep. 2017.
Nye, Myra. "Los Angeles Ebell Club's New Home on Wilshire Dedicated."
Los Angeles Times (1923-Current File)
: 1. Oct 04 1927.
ProQuest
. Web. 24 Sep. 2017.
Savoy, Maggie. "Ebell Marking 75 Years."
Los Angeles Times (1923-Current File)
: 3. Oct 26 1969.
ProQuest
. Web. 24 Sep. 2017.
Wilson, Bess M. "Ebell Clubhouse Combines Beauty and Practicality."
Los Angeles Times (1923-Current File)
: 2. Jan 04 1948.
ProQuest
. Web. 24 Sep. 2017.