Hollyhock House
While Frank Lloyd Wright's portfolio of work undoubtedly merits its own spotlight, it is impossible to tell the story of Hollyhock House without focusing on its beneficiary, heiress Aline Barnsdall – a modern woman before her time and patron of the arts. The "eccentric mistress of Olive Hill" was a woman with a vision. Barnsdall was the daughter of oilman Theodore Newton Barnsdall, and upon his death in 1917, inherited his wealth. Soon after, Barnsdall became an unwed mother, and along with her infant daughter, retreated to California with grand plans of building a theater community. That vision became the basis for the design and construction of Hollyhock House and accompanying buildings on the property. Barnsdall was first introduced to Frank Lloyd Wright through mutual friends, and not long after, Wright began drawing up plans for a theater, main residence for Barnsdall and her daughter, and several smaller residences on the property. Hollyhock House, built between 1919 and 1921, was Wright's first Los Angeles based project, and Barnsdall proved to be an interesting partner for the architectural visionary. The project was seemingly plagued from the start by financial difficulty, artistic and personality differences, and Wright's many trips abroad, which interrupted the flow of construction.
Hollyhock House's style seems to play off of extremes, perhaps as unharmonious as the circumstances of its creation. One 1933 Los Angeles Times article commented on Wright's ability to make "cement-built masses into things of charm and beauty… He excels on small, romantic-looking courts, which add to the livability and grounds, and pools always constitute a great feature in his designs." The contrast between the lush grounds, courtyards, and harsh exterior is both jarring and visually fascinating. Taking in Hollyhock's severe, cold concrete existing alongside the area's natural beauty, it's hard not to see that interplay as a perfect representation of the design of the city in which it exists.
The house's namesake, the Hollyhock, was Barnsdall's favorite flower, and you'll find geometric renderings of the Hollyhock decoratively cast into much of the concrete exterior, and some of the interior furnishings. The interior of the house is stunning, yet at times lacks function. Our tour didn't allow us in the bedrooms, which are understood to be small and dimly lit, but the dining, living, and music rooms we explored boasted a beautifully open and airy floor plan. The exterior concrete follows inside, and is accompanied by intricate carved wood details, an abstract artistic masterpiece of a fireplace, and beautifully designed furniture. Wright described the style as California Romanza, helping set the tone for modern California design.
Whether because of the impracticality of the home, the financial and artistic frustrations, or Barnsdall's own temperament—which Wright described as "domestic as a shooting star"—Hollyhock's owner never actually moved in. In 1927, in memory of her father, Barnsdall gifted Hollyhock House and 9 acres at the top of Olive Hill to the City of Los Angeles to be used as a public park dedicated to the arts.
Unsurprisingly, that was not the end of Barnsdall's time on Olive Hill. Barnsdall remained outspoken and strong willed throughout her life, and in 1938, sued the city of Los Angeles to return part of the land she donated because they had not improved the park grounds as promised. Upon her death in December 1946, a Los Angeles Times article recounted how twice in 1945 she "stood embattled on the property" and that the so-called "Battle of Barnsdall Park" on March 7, 1945, found her ordering barricades to block cars from passing as she relentlessly stood her ground to protect children from automobile traffic. Several weeks later, Barnsdall was arrested after letting 12 of her Cocker Spaniels roam free on the grounds unsupervised. Even the FBI monitored Barnsdall's somewhat radical behavior and political leanings. Barnsdall's quirky yet benevolent nature continued to her death, when she left her no less than 22 Cocker Spaniels a handsome sum of $5000, so that they may all live "in comfort" until the last of them dies.
For years, Hollyhock House long suffered from structural damage following the Northridge Earthquake in 1994, and ongoing drainage issues. The house went through a major restoration nearly a century after its initial construction, and finally re-opened its doors to the public in 2015. Barnsdall would be pleased to see how her Olive Hill is used today. Guests tour Hollyhock House after passing through the visitor's center and museum shop; the theater and art gallery showcase artists and host events; Angelinos and tourists alike picnic and relax on the grounds; and wine tastings and outdoor movie screenings are offered in partnership with local businesses. In 1933 it was observed that, despite being a short distance away from traffic and the hustle and bustle of city life, Olive Hill seemed remote from the city noise and polluted air below. The same is true today. Overlooking the Hollywood sign and the busy pace of East Hollywood and Los Feliz, Barnsdall Park is an historical gem, an urban oasis, and an architectural oddity – all thanks to the vision of its inimitable beneficiary, Aline Barnsdall, and her architect, Frank Lloyd Wright.
Hollyhock House is located at 4800 Hollywood Boulevard. The site is listed on the National Register of Historic Places and is dedicated as Historic Cultural Monument #12 by the City of Los Angeles.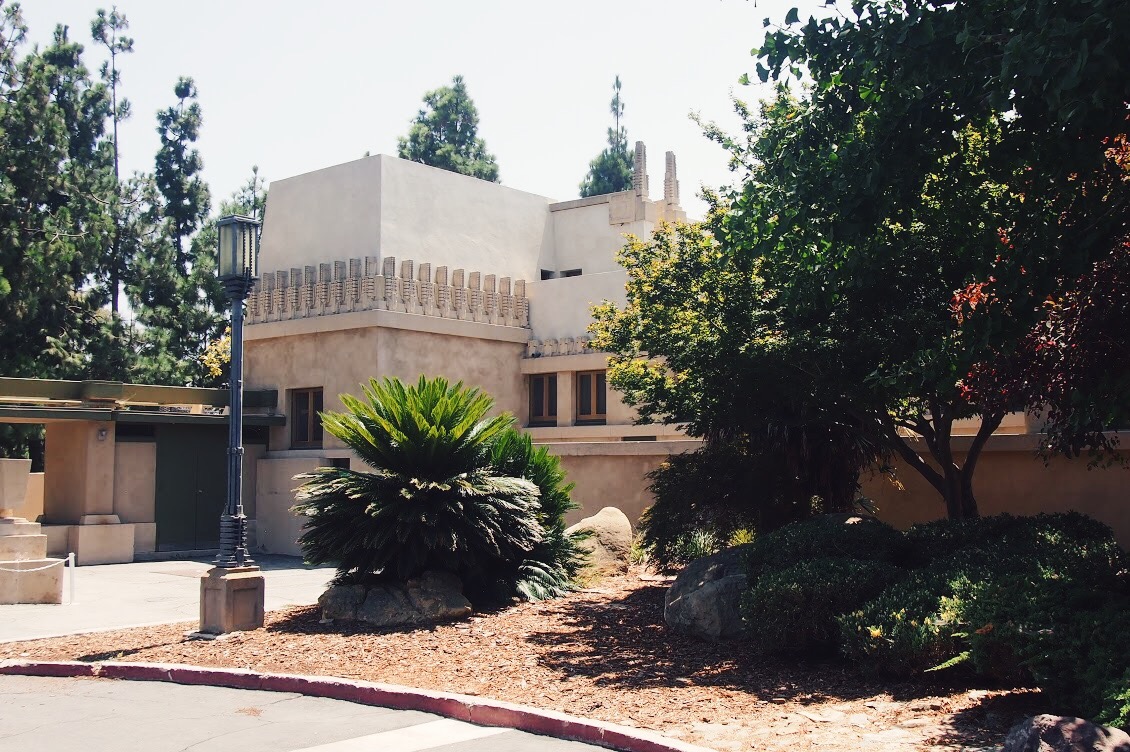 Sources:
"Aline Barnsdall, Oil Heiress, found Dead." Los Angeles Times (1923-Current File): 1. Dec 19 1946. ProQuest. Web. 12 Aug. 2017.
"ARCHITECTURAL GENIUS REVIEWS REBEL CAREER." Los Angeles Times (1923-Current File): 1. Apr 10 1932. ProQuest. Web. 12 Aug. 2017.
www.barnsdall.org
"BARNSDALL PARK--A City Cultural Center." Los Angeles Times (1923-Current File): 1. Sep 04 1927. ProQuest. Web. 12 Aug. 2017.
Gill, Brendan. Many Masks a Life of Frank Lloyd Wright. New York: Da Capo, 1998. Print.
Hoffman, Donald. Frank Lloyd Wright's Hollyhock House. New York: Dover Publications, 1992. Print.
King, Helen W. "The Park Unique." Los Angeles Times (1923-Current File): 1. Oct 01 1933. ProQuest. Web. 12 Aug. 2017.
Lind, Carla. Frank Lloyd Wright's California Houses. Pomegranate Artbooks, 1996.
"Miss Barnsdall Leaves $5000 for Her 22 Dogs." Los Angeles Times (1923-Current File): 1. Jan 03 1947. ProQuest. Web. 11 Aug. 2017.
Nye, Myra. "What Women are Doing." Los Angeles Times (1923-Current File): 1. Nov 04 1927. ProQuest. Web. 12 Aug. 2017.